Like many designers, I learned InDesign by leaping headfirst into it and figuring it out as I went. (In my case, I transitioned from the Illustrator-centric package design world to the InDesign-centric marketing design world.)
I started with the immediate, need-to-know functions. As time went by, I snooped around and learned some simple ways to make InDesign work more effectively for me.
What a difference those techniques have made!
💔 Falling out of love with your clients? Trade some of your worst clients for the best companies in the world with SolidGigs, our premium weekly freelance job list & course library. Love your business again. Learn more »
If I go back into files that I created long ago, I am amazed at how much more organized and efficient my methods have become. And as hard-working freelancers, we know that organization and efficiency mean more time, which equals more money in the bank.
Let's start with these four easy tricks – each one has saved me gobs of time and energy which I then got to spend on actual creativity. Or marketing. Or spending time with my kids (best of all).
Bonus! #1 and #3 also apply to Illustrator, but we'll get into that application another time.
Mac shortcut: Option+Command+i
PC shortcut: Alt+Ctrl+i
Enter your email. Grow your business.
Submit your email below and join 45,000+ creatives who get our most helpful content via email every week. 100% free. Unsubscribe anytime. Privacy protected.

This very special command lives at the bottom of the Type drop-down menu, and it will reveal a multitude of formatting sins in your document. If a piece of text is behaving weirdly, I can pretty much guarantee that the mystery will be solved when you reveal those hidden characters.
In this example, you can see that the last line of the quote is hanging oddly below the rest of the lines. With the hidden characters made visible, you'll immediately see that the paragraph symbol at the end of the quote is grossly oversized – all you have to do now is adjust its point size to match the rest of your copy.
Sometimes evil spirits tweak your formatting. We all know that.
#2 Indent to Here (Command+\)
Mac shortcut: Command+\
PC shortcut: Ctrl+\
Here's a handy little trick that will save you hours of swearing as you try to align type under an indent.
In the first example – again, we see the benefits of showing hidden characters – you see some tab symbols at the beginning of the second and third lines. Tabs work marginally well in this case, but just wait until you adjust that text box. The text flows, and those tabs are now smack in the middle of a line. Oops.
Now look at the second version. By adding the "Indent to Here" dagger symbol, all of the text in the rest of the paragraph lines up under that symbol – and flows perfectly if you need to adjust your text box.
Take the rest of the day off!
#3 Glyphs
The Glyphs palette is a very useful resource when you need to add a special character to your text.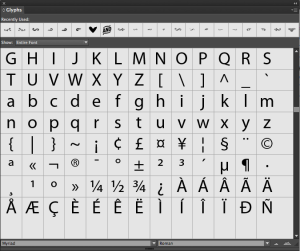 Located in the Type drop-down menu, this palette allows you to quickly peruse the different character options in the font you're using. Place your cursor in your text box, and double-click whichever character you want to use.
Depending on the font, you may find:
Commonly-used fractions (which otherwise can take time and tinkering to create from scratch)
Registration marks and copyright marks
Special characters from multiple Western languages
One special note, Minion Pro and Helvetica Neue are a couple of fonts that contain full characters from a huge range of Western languages, INCLUDING Greek and Cyrillic. So, if you ever have a project that spans several languages, do yourself a favor and consider using one of those from the start! (She said, having learned that the hard way…)
Look for ligatures in Glyphs, too – special combinations of characters like "ff" or "fl". The ligature helpfully combines characters which would otherwise bump into each other awkwardly – you don't want your text block to resemble a middle-school dance, do you?
#4 Hyper-useful queries in Find/Change
Under the Edit drop-down menu, select Find/Change, and then witness the majesty that is in the Query menu. My particular favorite is the "Multiple Space to Single Space" option.
Oh yes, when I receive a document full of copy in which author has meticulously added double spaces after every period, I don't cry! Not me – I happily hit that query option and order is restored.
I love it.
…or request more of mine! Will these tips save you valuable time and design energy? Whether you've got some of your own or just want to read Part 2, leave a note in the comments!
Keep the conversation going...
Over 5,000 of us are having daily conversations over in our free Facebook group and we'd love to see you there. Join us!