---
Today's podcast episode will gear you up with the top tools for growing a successful side-business.
Side-businesses are unique.
You have limited time during the day (sneaking in a quick phone call on your lunch break, anyone?) and you have a lot to get done.
Plus, the more your business grows, the more you have to get done. But you don't get more time for your side-business—because you've still got a job, a family, or other obligations.
So today's podcast episode gives you 31 top tools for growing a successful side-business. These tools will help you get more done in less time which will help you create the business and life you're searching for.
These are all tools we've used as we've built our growing side-businesses and we've included the full list of tools (also with a few discounts and special offers) for you below.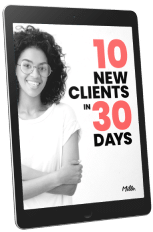 Need more clients?
Get more freelance work with our FREE book: 10 New Clients in 30 Days. Enter your email below and it's all yours.
Be sure to add your favorite side-hustle resources and tools in the comments below.
Speaking of helpful tools, a quick note from this season's sponsor:
---
Season 2 of Sidegig is sponsored by FindSideGigs.com: a free lead generation service for freelancers and those looking to earn some extra income. To take your sidegig to the next level with FindSideGigs, visit millo.co/findsidegigs and subscribe to their free weekly gig lists to get started!
---
Without further ado, here's the list of tools for growing a successful side-business.
PS: As always, some of the links found in this show and blog post are affiliate links which means the Millo team gets a small kickback if you choose to purchase using our links. If you do, thanks for supporting our work here at Millo.
(In the order they're listed throughout the podcast conversation.)
All three of us (and millions of other people) use WordPress every day to manage the content and audience engagement happening right on their website.
Millo is built on the Genesis wordpress framework. There are pros and cons, but overall, I like the flexibility it offers.
Ryan's site is built on Optimizepress which allows him to do lots of customizing without any knowledge of PHP, HTML, CSS, etc.
Divi is a theme that has quickly taken the web-design world by storm. Their unique front-end visual editor lets you edit you site from the perspective of a site visitor which can be huge for conversions and overall aesthetic.
[aff_Divi]
Ian purchased a theme on Themeforest that allows him to do some customizations on the front-end of his site as well.
[aff_ThemeForest]
Dreamhost is great for small projects, domain registrations, affordable hosting, and reasonable WordPress management.
[aff_Dreamhost]
Bluehost is also great for wordpress hosting, domain registrations, and superior customers service.
[aff_bluehost]
8. One-click installs
Unlike when I started this site, most host providers now offer one-click wordpress installation which means you can set up a wp website in less than a couple of hours.
A superior WordPress management solution that also allows you to resell WordPress hosting to your clients.
[aff_Flywheel]
As Ryan puts it in the episode, WP Engine is probably the Cadillac of WordPress hosts. He has 100% uptime even when he gets a ton of traffic from being published on quite a few larger sites.
[aff_WPEngine]
Last, but not least, HostGator is another simple options for smaller sites, domain registrations, etc.
[aff_HostGator]
Pipedrive has been instrumental in helping Ian land loads of freelance design work over the years. It has also helped me (Preston) secure tens of thousands in sponsorship revenue. It's a bit like the next tool, with some bonus features included. Definitely one of our favorites on the list today.
[aff_Pipedrive]
I've been a long-time fan of Trello. It's easy-to-use, free (mostly) and well-designed. I use Trello to manage loads of projects in my business, my volunteering, and my family life. It's my go-to app for keeping to-dos organized and flowing.
This tool has been a complete game-changer for me. I've used it to book tens of thousands in new sponsorship deals all using "cold" emails. The trick?: it makes your cold emails seem much less cold. It follows up with potential customers if they don't respond to your emails.
Most of my potential customers don't respond to the first email but the majority do respond on the follow-up.
[aff_Reply]
15. Boomerang
Also a great tool for following up, Ryan uses Boomerang for Gmail. It allows him to follow up with recipients if he hasn't heard back in a determined amount of time.
If you're freelancing as a side-business, you'll find a lot of help in getting yourself a project management tool. One that's always top-of-mind is Freshbooks. Ian has used it for about a year and likes the visual feel and ease-of-use it offers.
[aff_Freshbooks]
Another helpful tool that also looks and works well is Bonsai. They also have a free version that might have enough features for you to never have to upgrade to anything else.
[aff_bonsai]
Another similar project management app is ANDCO. But what sets AND CO apart from all the other options is this: they not only have a beautiful, helpful app. They also pair you with a real-life human being who helps you manage your freelance business.
They'll send your invoices, follow up to make sure you get paid, and lots more. One of my personal favorites when it comes to project management.
[aff_andco]
Another tool I should mention is FunctionFox. At the time of recording, I wasn't aware of FunctionFox, but I've since learned more about what they offer for freelancers and I'm extremely impressed.
A definite contender with all the other options on the market.
19. FreeAgent
Last, but not least, FreeAgent offers accounting and project management capabilities for freelancers especially.
Quickbooks has been around for ages. If you're self-employed (or have a side-hustle) you'll want to take a look at their Quickbooks Self-Employed option. To Ryan's point, though, the design can be a bit more corporate than some of these others. Nevertheless, it's a great option—especially as you begin to grow your business.
[aff_Quickbooks]
Xero is one of the most recommended accounting apps I hear about from the Millo community. They offer a stellar beginner version and a free trial.
[aff_Xero]
My personal bookkeeping app of choice, Bench also pairs you with not only great technology but also a team of real human beings who manage your books. They also put your finances into nice monthly reports so you always know where your business stands. I personally love using Bench.
[aff_bench]
23. Buffer
Moving to social media, Buffer is an industry standard for many side-hustlers and solopreneurs.
All you have to do is continually load your Buffer account with interesting content and it will periodically (as determined by you) tweet or post your scial media statuses which means you only have to jump into the tool every so often instead of managing your social accounts all day, every day.
24. Crowdfire
Crowdfire is Ian's personal favorite when it comes to social media publishing and engagement. It helps him find interesting people in his same industry, interact with their content, and publish interesting content to his followers too.
Mailchimp is the newsletter tool we use here at Millo. It helps us send the right emails to the right people, at the right time. We've been using it for years and love the tool plus the friendly customer service.
[aff_Mailchimp]
Drip is a more sophisticated marketing tool for sending customized emails to your customers based on their customer journey, user activity, buying habits and more.
[aff_Drip]
ConvertKit is quickly taking the email marketing industry by storm. They offer great solutions for bloggers particularly, allowing you to send segmented emails to unique groups on your list, automate important messages, and lots more.
You can also listen to an interview with the founder of ConvertKit, Nathan Barry, on our podcast, Freelance to Founder.

[aff_ConvertKit]
A personal favorite of Ryan's, Edgar is a bit like Buffer where you load in content you want to share with your audience and Edgar handles the rest. The cool thing about Edgar though, is that it will continue to post and repost content to your audience at intervals you specify.
And when you're ready to change up the content, no need to reschedule anything, just add it to the mix and Edgar takes care of the rest.
I've used CoSchedule to coordinate the social media promotion of my blog posts for years. It's one of my favorite blogging tools and I highly recommend it as an alternative to hiring a social media manager. CoSchedule allows you to put your blog posts into a queue for social sharing as well.
Pretty self-explanatory, but Ryan and Ian both use Google Calendar to schedule appointments and other tasks.
31. Dropbox
At Millo, we connect dropbox to other apps for automatic uploading and file-sharing. Instead of trying to send giant files via email, you can upload them to dropbox, grab a link, and send it to your clients or customers.
That about wraps it up. Let us know what tools you're using to build your side-hustle in the comments below.
And as always: thanks for listening!
Keep the conversation going...
Over 10,000 of us are having daily conversations over in our free Facebook group and we'd love to see you there. Join us!