Table of Contents
This post may contain affiliate links. See our affiliate disclosure for more.
Laptops have been around since the 1980s. As they have gotten less expensive and more practical, they have been a boon to people wanting to work with more flexibility. Without using the best portable laptop stand for the type of computer you have, your body can suffer from poor posture and other issues.
For freelancers, laptops are certainly handy. They are more portable than a desktop computer, giving gig workers the freedom to travel, work outside, meet with clients anywhere that is convenient and transfer from home to a separate workspace if needed––and sometimes when all the work is done for the day, binge watch a favorite show from the comfort of their bed.
With all of their advantages, laptops have a couple of major downsides.
The generally small monitors on a laptop can contribute to eye strain, particularly when the screen is positioned far away from your face. AKA, on your lap.
Another problem is when working on a standard desk, laptops tend to sit way lower than they should. This results in workers hunching over to reach the keyboard and view the monitor. This can lead to long-term problems with your neck and shoulders. (Ask me how I know!)
Of course, your office desk and chair contribute to setting up a comfortable environment. But ultimately the simplest solution to eye strain, hunched shoulders and other issues that come with using a laptop is working on the best portable laptop stand you can get.
10 of the best portable laptop stands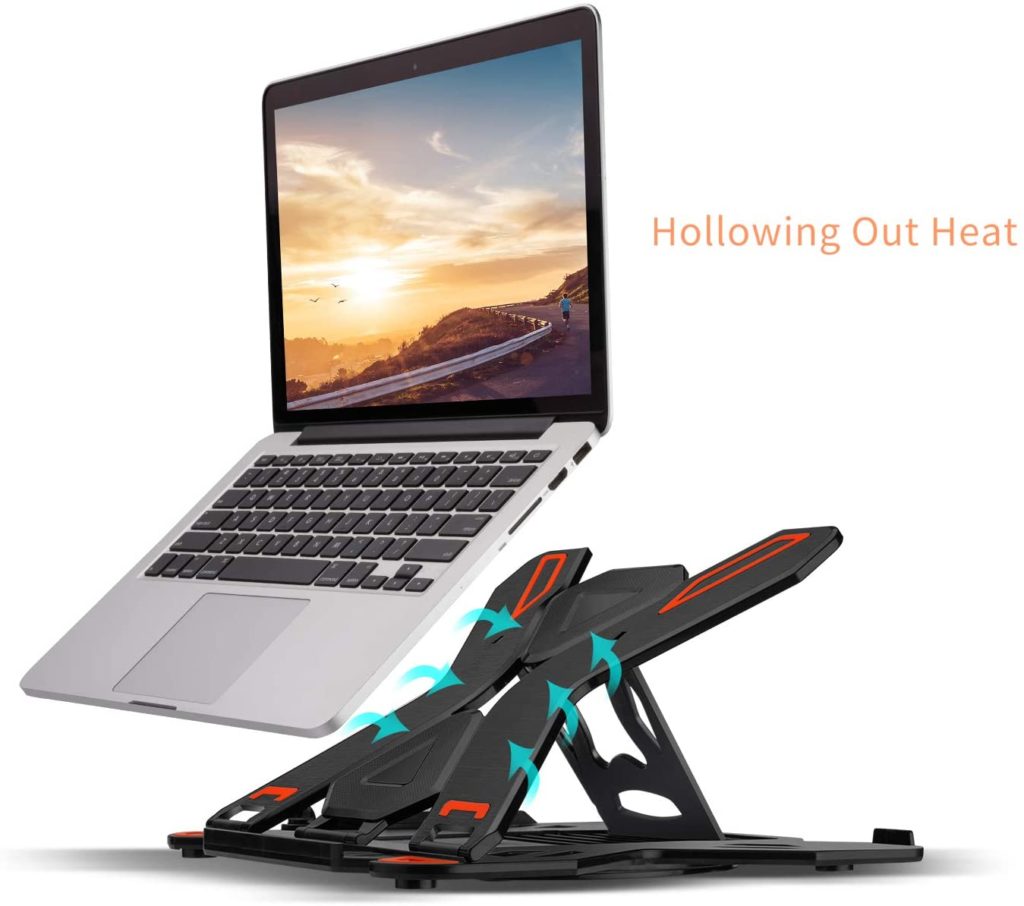 This simple stand from Kentevin packs a lot in for a small price. Compatible with almost any laptop, it also has space for your phone, which can be invaluable when you work on the go and need to refer often to digital notes. It has all plastic parts, so if you have a heavy-duty laptop, this stand may not have the stability you need.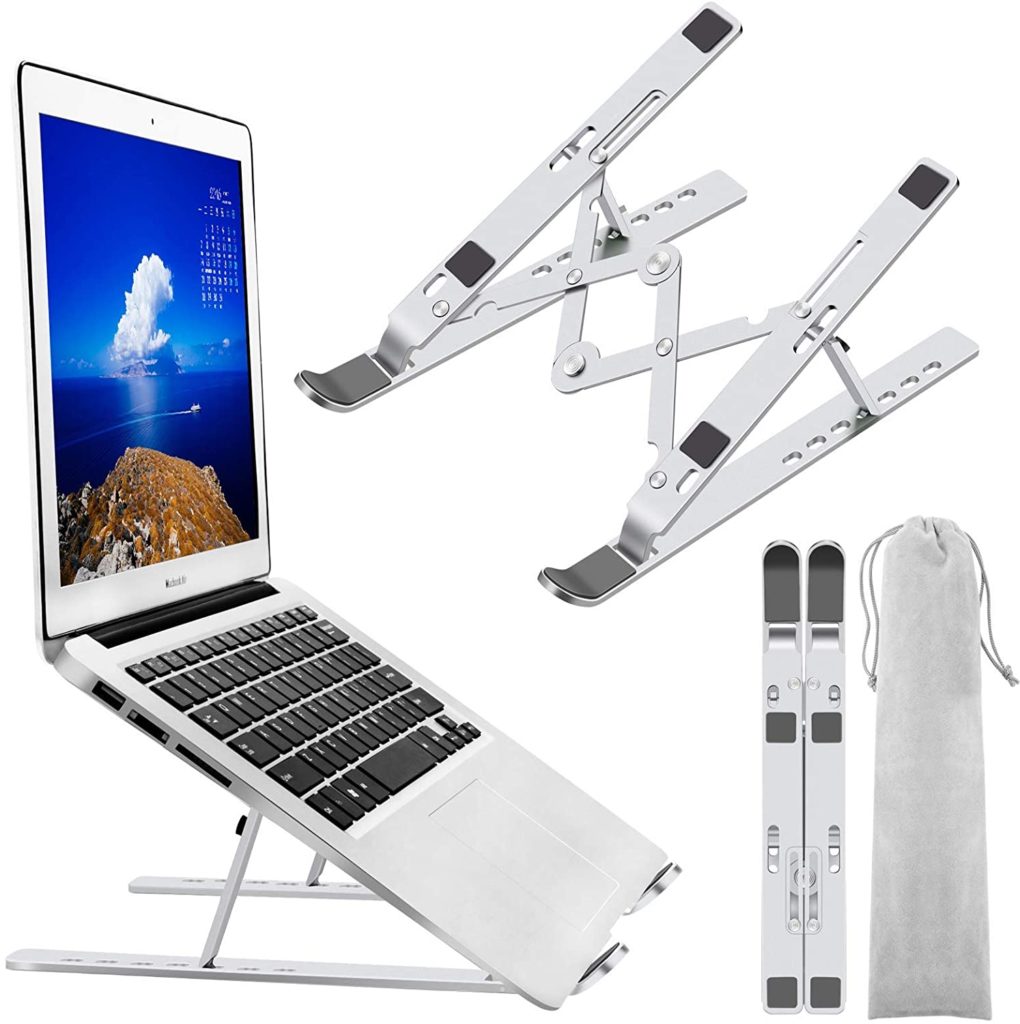 One of the best portable laptop stands if you need something truly portable, this Leeboom stand folds down to less than 2 inches to fit in your bag when you are traveling. This stand is perfect for on-the-go video calls and light use.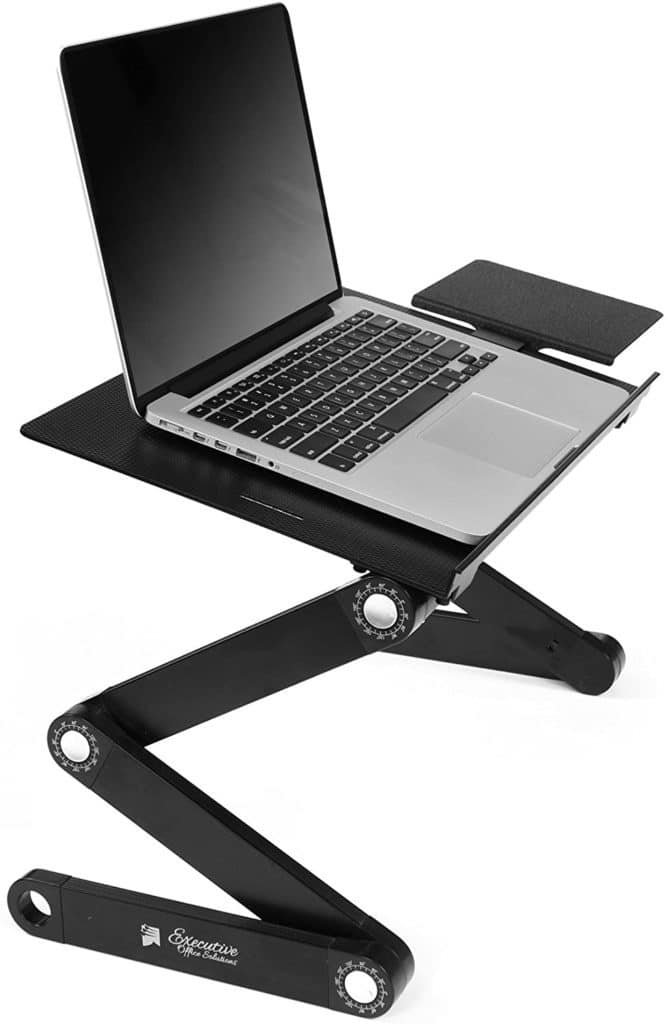 This laptop stand has all-metal parts and fully adjustable legs, so you can put it at whatever height suits you.
Some users have stated that the legs are difficult to adjust, so for those who need a very specific height and angle, this may be the best portable laptop stand. For those looking for maximum portability, it is probably better to choose another stand from our list.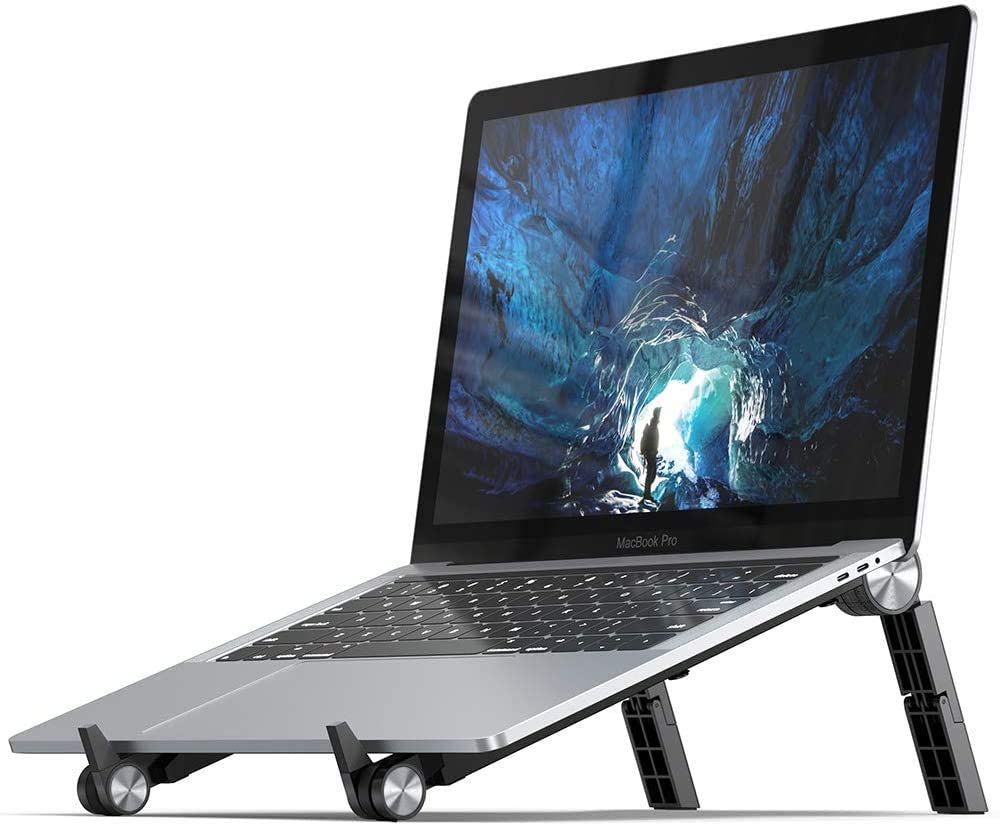 This simple stand has three different height adjustments, is lightweight and you can't beat the price. If you want to try a laptop stand and see if it's a good fit for you without any bells and whistles, this model by Lamicall is a great one to start with.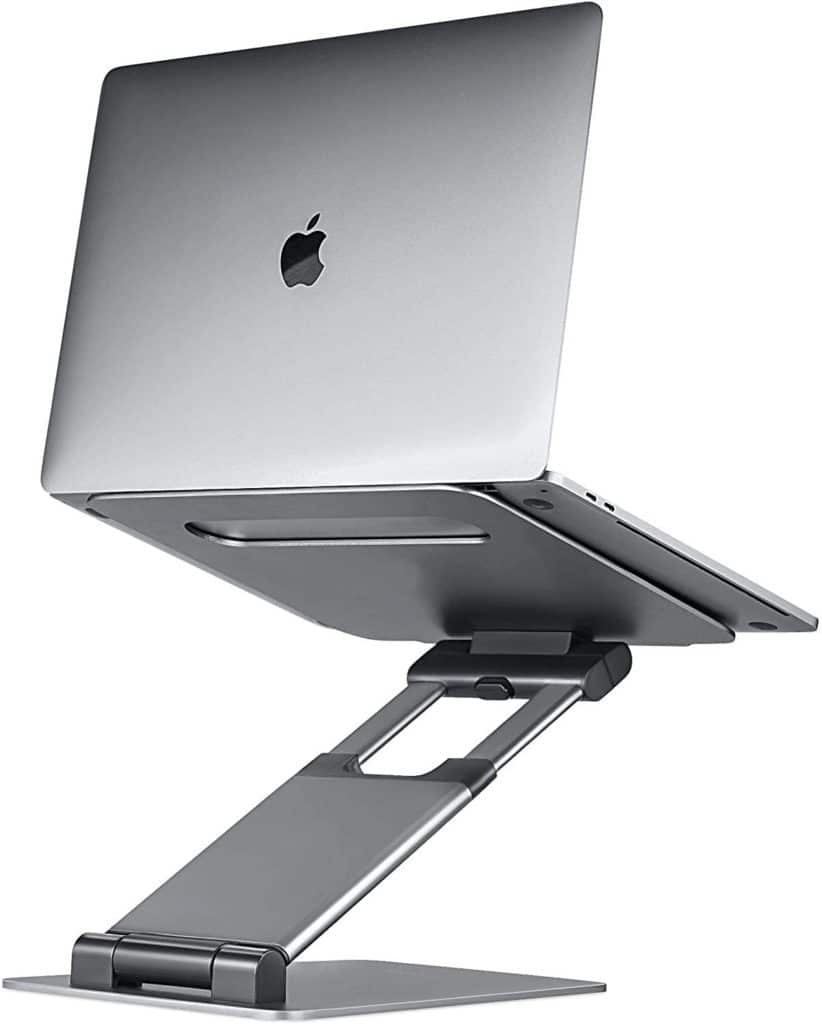 Built to sit on a desk, this stand by Lifelong might be the best portable laptop stand for workers needing a sit-to-stand solution. Adjustable all the way up to 20 inches, you can use the product as an alternative to a full standing desk or just to get a better angle on video calls.
It does fold flat for portability, and rave reviews speak to the quality of the product. The only downside is the steeper price. If you're looking for something that will really last, investing will be worth it.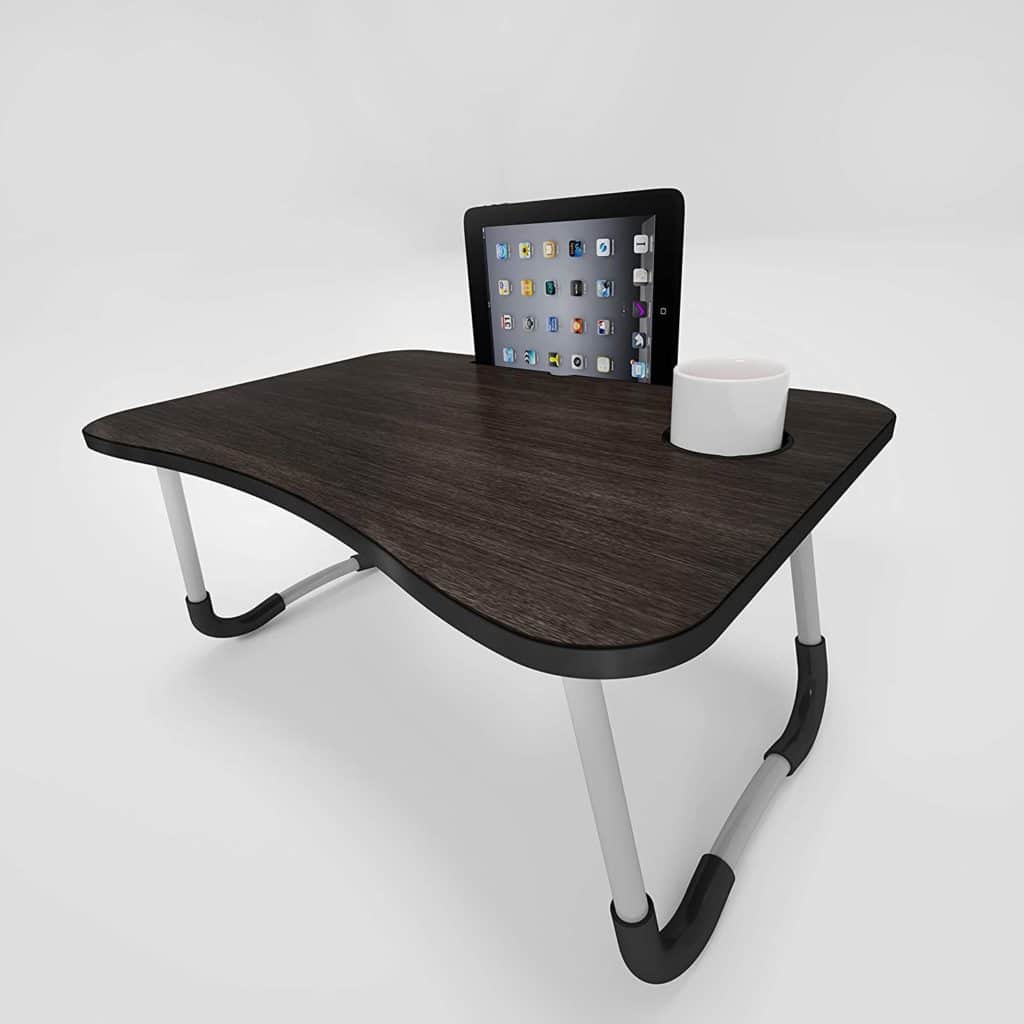 Part TV tray, part computer stand, the Corson tools laptop table is the best portable laptop stand for people wanting to work from couches, beds, and other reclined positions.
The legs fold down, so this stand is portable around the house or possibly between your home and office, but at over 4 pounds, is probably too cumbersome to haul on an airplane or be truly travel-friendly.
This no-nonsense stand from Nulaxy is a great budget option for freelancers who just need to elevate their computer a small amount. Adjustable up to 5 inches, this might not be the best portable laptop stand for taller people, but it definitely allows for cooling and takes the strain off of your neck.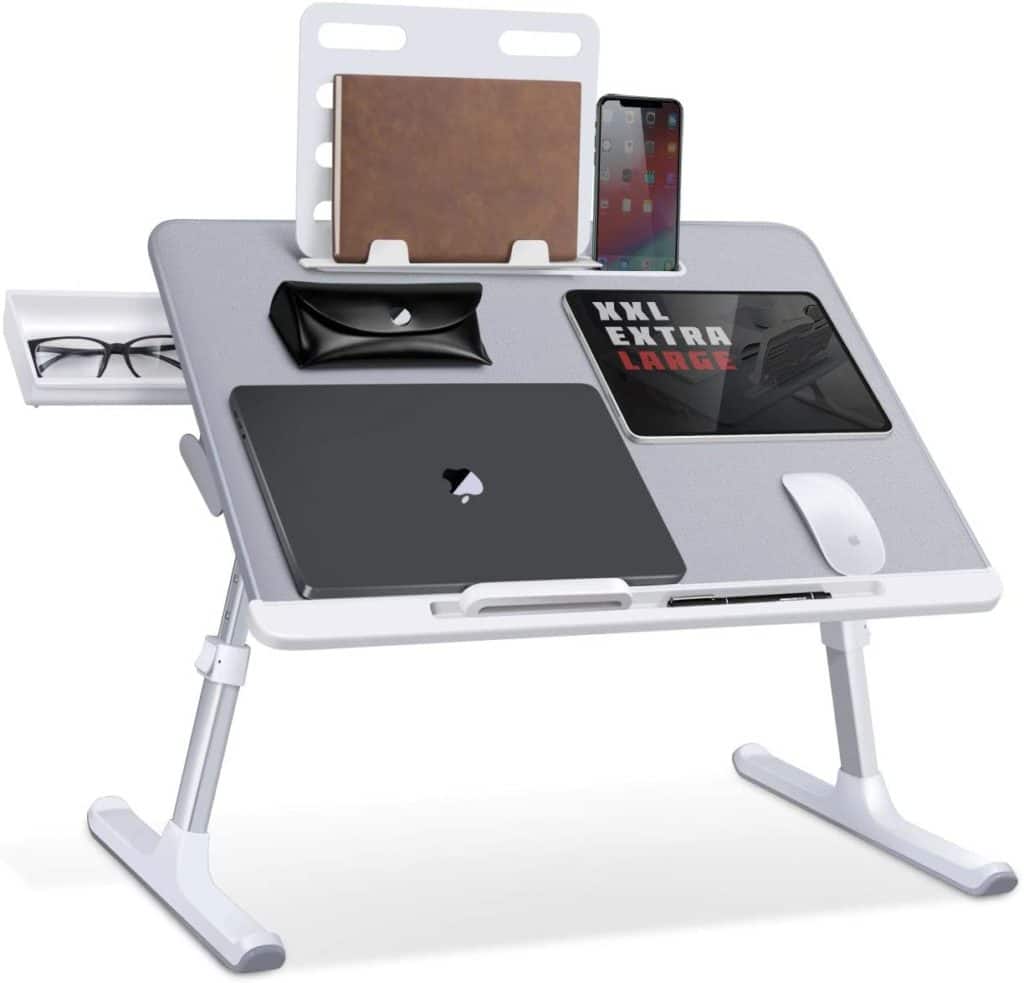 Another tray option, this version from SAIJI has a bigger price tag, but with that comes all kinds of space. If you are the kind of worker who needs to spread out notes, a secondary tablet and your chosen beverage, this 23" lap tray may be the best portable laptop stand for you!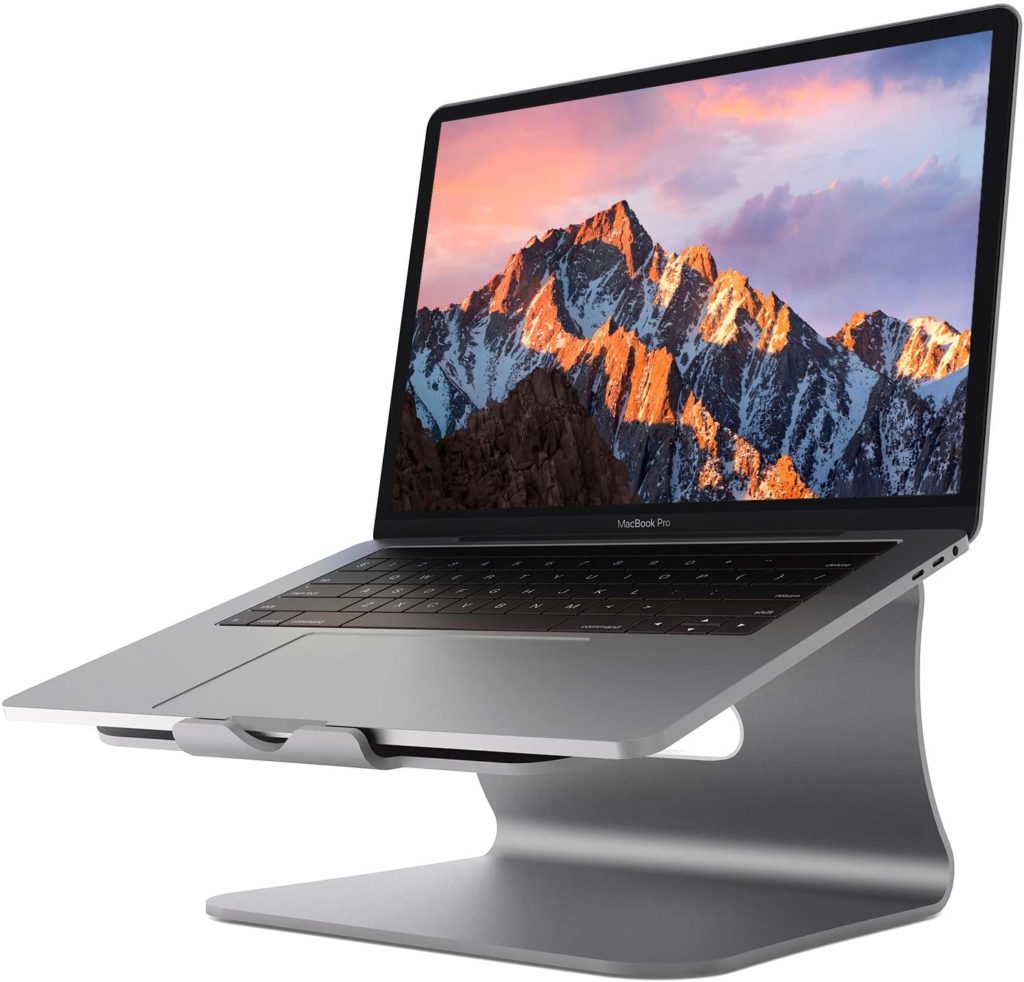 While it isn't fully adjustable, the Bestand cooling computer stand made the list because of its simplicity and durability. If you don't want to deal with the hassle of putting together and calibrating a computer stand, this middle-of-the-road model will likely suit your needs and be the best portable laptop stand for you.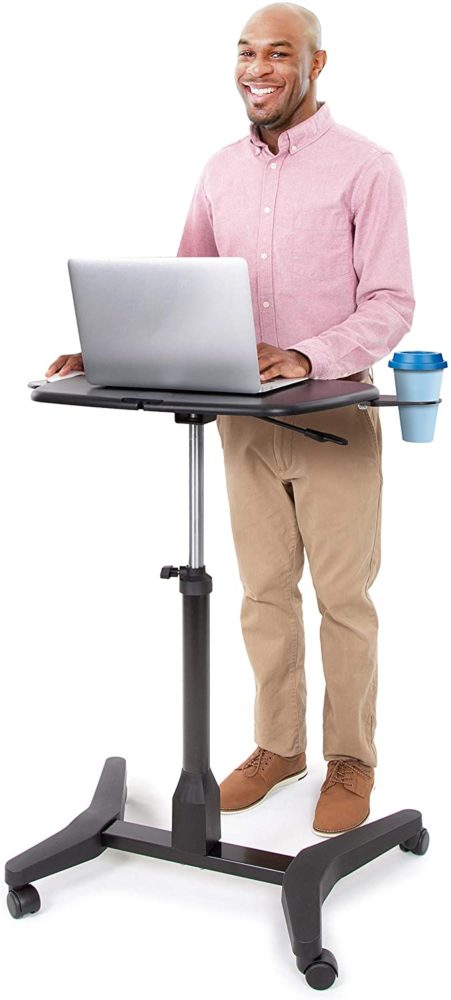 This stand calls itself portable, but it's more of a full-on desk. That said, if you give a lot of presentations or need something that can move from room to room as you adjust to tasks and give yourself a change of scenery, this just may be the best portable laptop stand out there.
While the pictures show an individual standing to use it, I would suggest that the angel is much better suited to sitting down.
Choosing the best portable laptop stand
Go to Amazon (or any online retailer) and type "best portable laptop stand," and you'll get thousands of results. It can feel overwhelming to choose something that will fit your space and your budget, work for your body type and stand up to the kind of use freelancers tend to put their equipment through. (Read: we work hard, and we're tougher on things than a recreational laptop user.)
Modify your search for the best portable laptop stand based on these factors:
How much you're willing to spend
There is no sense in looking at pricy versions if they're out of range for you. A good portable laptop stand can run between $10-$200.
You can save a lot of time by filtering out the costlier products if you have no intention of spending that much. Likewise, if you have your eye on something top-quality, you can confidently filter out the low-end products based on cost.
Your height
Taller or shorter than average people may want to invest in a variable height stand. Getting the angel right is really important in choosing the best portable laptop stand, so measure your eye line from a sitting position, measure the height of your desk, and go from there.
Ease of storage
Home office spaces are often small, temporary or irregular. You'll want something that doesn't take over your entire desk, or that can fold up into a backpack, depending on your setup. If you have a lot of room, you can expand your search to larger, more comfortable stands.
If you need something that is truly portable for lots of travel, the best portable laptop stand for you may not be as sturdy as other options, but will work in a pinch and is easy to carry.
Airflow
Your laptop needs to "breathe" underneath to avoid damaging the fan long-term. Some stands have built-in fans, others have specialized materials or open space on the underside of the laptop to allow for good flow.
However it is achieved, the best portable laptop stand absolutely needs to address this issue.
Once you've figured out what things matter most in your search for the best portable laptop stand, you'll still likely have hundreds of options. So we hope our curated list of some of the most likely candidates will help get you started.
Conclusion
From your printer to the pens you buy, freelancers need quality equipment. Investing in the right kinds of office supplies can elevate your business, allow you to do better work, and offer a superior client experience. (Pro tip: it's also a tax write-off!)
Too often, freelancers get caught up in cutting costs wherever they can in order to make their one-person operation work. But investing in yourself, your health, and your ability to be productive is not something you should skimp out on.
The amount of hours the average freelancer spends on a laptop is somewhere in the range of 10-50 hours every single week. Working like that without the best portable laptop stand between you and the desk can be seriously draining.
Do a little research, pick what you feel is the best portable laptop stand for you right now, and see what a difference investing a little bit of time and money into your well-being will do for your business in the long run.
I guarantee it will be worth it.
Keep the conversation going...
Over 10,000 of us are having daily conversations over in our free Facebook group and we'd love to see you there. Join us!