This post is part 2 of a series. If you'd like to read part 1, please click the link below:
Common mistakes designers make with clients – Part 1: Not signing a contract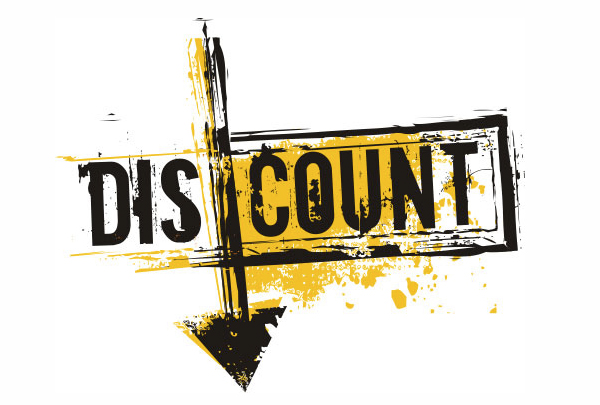 For today's installment of Common mistakes designers make with clients, I'd like to tackle a controversial one: allowing a discount.
I can already here the collective outcry: "What!? No discounts?" But I'm here to tell you that offering a discount to your clients is one of the most common and most deadly mistakes you can make.
Here's why:
Discounts set a precedent
The first problem with discounts on your design work is that it sets a precedent for your clients.
Don't think for a moment that you can entice a client to hire you for the first time at a 25% discount and then they'll pay you full price the next time around. This might work for some designers, but it's a very risky and somewhat unlikely opportunity.
Discounts cheapen your work
Secondly, discounts make your work and your business feel cheaper. If you're always competing fully on price, then your clients will see you as a bargain designer.
Instead, try competing on value, expertise, or turn-around time. These sorts of competitive advantages give you an upper hand without cheapening your work of your brand.
Discounts are for grocery stores with rotting produce
Discounts are designed to move product. Grocery stores offer a discount on yesterday's bread, browning lettuce, and week-old cookies.
💔 Falling out of love with your clients? Trade some of your worst clients for the best companies in the world with SolidGigs, our premium weekly freelance job list & course library. Love your business again. Learn more »
Your design isn't old. It isn't rotting. It isn't yesterday's hot item.
At least it shouldn't be.
If it is, then we have a whole different problem on our hands. Offering discounts makes you seem like you're trying to push product like a grocery store. It tells your customers that you are not in high demand and you are desperate for some business.
If you're pushing a product, maybe the story is different, but since we're talking about services here, I say avoid discounts like rotting tomatoes.
Discounts can kill your income and profits
Lastly, discounts can kill your income and your profits. Running a successful design business is all about making enough money to live comfortably while doing what you love to do.
Your income and profit are what keep your design business alive.
By offering discounts you are slowly killing it.
Really? I can't offer discounts?
Since I know there are a lot of you probably asking this even after this post, I'd like to offer one possible way you could offer a discount if you still think it's the best option for your business (which I still don't think it is, but I know some of you will).
Overprice your services and then offer a discount so you're at least still making the amount of money you need to on a project to make ends meet and build your business. Discounts like these still set a precedent, they still cheapen your work, but at least you're not sacrificing as many profits and income.
Here's a little secret: most discounts at the store do just that. They're still making money (meaning they bought the product for less money then they are selling it for at a discount) when you make a discounted purchase.
Do you agree?
I know this can be a little bit controversial, so I'm wondering if you agree. What do you think? Should designers offer discounts to their clients? Or is a terrible client mistake? Let me know what you think by leaving a comment.