This post is part 9 of a series. Read the rest of the series here:
Common mistakes designers make with clients – Part 1: Not signing a contract
Common mistakes designers make with clients – Part 2: Allowing a discount
Common mistakes designers make with clients – Part 3: Burning bridges
Common mistakes designers make with clients – Part 4: Working for family
Common mistakes designers make with clients – Part 5: Missing deadlines
Common mistakes designers make with clients – Part 6: Not asking for referrals
Common mistakes designers make with clients – Part 7: Neglecting to follow up
Common mistakes designers make with clients – Part 8: Letting your client pool die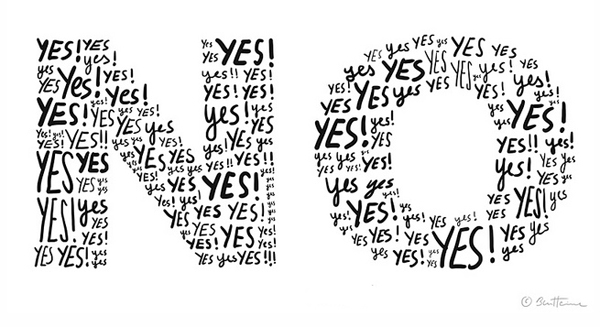 We're coming near the end of this 10-part series about common mistakes designers make with clients. Today, I want to dispell a myth many designers fall prey to:
Your client is not always right.
💔 Falling out of love with your clients? Trade some of your worst clients for the best companies in the world with SolidGigs, our premium weekly freelance job list & course library. Love your business again. Learn more »
In fact, thinking that your client is always right (because the 'customer is always right') is a huge mistake that designers frequently make. In fact, I'd dare say (because I have) that the idea that a client is always right may be the biggest myth in graphic and web design.
One of the biggest mistakes you can make for yourself and ultimately for your client (if they know what's good for themselves) is to simply say "yes" to any request or opinion they might have.
Don't start down that road!
Imagine the terrible situation you might find yourself in if you're simply a "yes" kind of designer:
"Can you get it done in a week instead of a month?"
"Yes." (We all know that you actually can't.)
"Wouldn't this look better with my logo bigger and a photo of my baby?"
"Yes." (You know that will ruin the design.)
"Can you send me a few options first and then I'll decide if I want to hire and pay you?"
"Yes." (Oh, come one now.)
You get the idea.
Enter your email. Grow your business.
Submit your email below and join 45,000+ creatives who get our most helpful content via email every week. 100% free. Unsubscribe anytime. Privacy protected.

Now while these examples might be slightly extreme, they aren't far off. Becoming a designer who always says "yes" to any request your clients bring to you can be a slippery slope that's hard to stop traveling down.
A slippery slope
Imagine if you say to yourself "This client wants to pay me too little on this project, but it means steady income for a few months because he has more project coming up. So it's worth it."
Wrong.
Do you think that a client who has already heard you say "yes" to a discount one time will actually pay full price the next time around? No way! You're stuck giving them a discount (or whatever you gave in on) for the rest of your relationship.
Saying "yes" to clients is a slippery slope you just don't want to start down.
What do say instead of "yes"
So what can you say instead of "yes"? Here's what I suggest:
When you first meet with a client, explain to them that you are not only a designer, but also a design consultant (and then have the knowledge and experience to back that claim up). Explain that you want to help them achieve their business goals through effective design. Establish your credibility as much as possible and let them know that you will be offering design solutions based on the years of study and experience you've accrued.
Once you have this frank (and sometimes slightly awkward; but don't worry it's worth it) conversation with your clients, they will not expect you to say "yes" to everything they throw at you.
They will ask for your professional and genuine opinion more often and are more likely to respect you when you tell them that an idea may not be worth exploring.
Never be rude when you don't say "yes", but never ever give in to ideas or practices that will hurt your reputation, your design business, or your emotional health.
Find a way to avoid saying "yes" to every suggestion, negotiation, or question that comes from your clients. And if they can't handle having a designer who won't just always say "yes", maybe it's time to fire them and find a better client.
What do you think?
How have you been able to avoid constantly giving in to poor decisions or requests from clients? How do you handle tough situations when you know saying "yes" will damage your business? Share your insight with me in the comments!
Keep the conversation going...
Over 5,000 of us are having daily conversations over in our free Facebook group and we'd love to see you there. Join us!