Table of Contents
This post may contain affiliate links. See our affiliate disclosure for more.
Creating a powerful resume and cover letter to send to prospective employers and clients can be tricky at the best of times. This is true even if you work for a single employer at a time, and your chosen career is relatively straightforward.
However, the process is even more complex, and often more challenging, for freelancers writing their resumes.
When you complete freelance jobs and projects, you gain plenty of valuable experience and hone new skills that you can—and should—add to your personal resume.
Regardless of whether freelancing is your primary source of work or simply one element of your complete career, you can include it on your resume to highlight those skills to potential clients and employers.
Including your freelance work on your resume can distinguish you from your competitors during the hiring process and increase your chances of landing quality, well-paying freelance jobs.
Your freelancer resume has many important objectives to achieve. It needs to effectively grab your potential clients' attention, list and pitch your professional skills, and provide evidence proving why you are the best person for the job.
Your resume should include a breadth of skills and experience that makes you appear accomplished, knowledgeable, and capable.
It's important to remember even if you don't have any employees on your payroll—or even a dedicated business name—as a freelancer you're essentially a small business owner, not someone who completes odd jobs for payment.
Your freelance career is valid and you are a professional, and your resume needs to convey these facts to potential clients.
The Basics of an Effective Freelancer Resume
At its core, an effective and engaging freelancer resume directly tells prospective clients why you're a great match for a job, and why they should hire you to do it.
It's important to sit down and make a simple list of why you are worth clients' consideration before you even think about freelancer resume templates or formats.
Your list should include:
Your skills: Add both your hard skills and soft skills to this list. Hard skills include skills like working with IT systems, specialized equipment and software packages, while soft skills include skills like management experience, teamwork, flexibility and motivation. You need a combination of both to complete most tasks successfully, especially if you will be working or collaborating with a team.
Your training and education: If you have any degrees that are relevant to your freelancer career, add them to this section. Include all of your formal training, classes, and professional certificates as well.
Accolades and achievements: Have you won any awards for your freelance work? Have you graduated with honors, published respected papers, or acquired trademarks and patents for your intellectual property? If so, write these achievements down.
Professional accomplishments: This section should be dedicated to projects you have participated in, managed, or completed during your freelance career. From building websites and photographing major events to designing pamphlets, managing social media marketing campaigns, and even restructuring departments, all are relevant.
Once you have created your list, you will glean some valuable freelancer resume keywords from it. Many prospective clients and hiring companies use recruiting management software to filter their candidates by picking up relevant keywords in their resumes.
Adding these keywords may assist your resume in making it through the filters and arriving in a client or recruiter's personal inbox.
How a Freelancer Resume Differs from a Traditional Resume
Traditional resumes often follow a standard chronological format. Freelancer resume documents differ from this convention in that they should have a more topical approach.
Resumes based on topical formats are designed to catch prospective clients' attention in more places than traditional resume formats. Instead of simply highlighting your job titles and past employers' names, a topical freelancer resume will showcase your broad range of experience and expertise with past clients rather than specific past positions.
It will also show your clients why every entry on your resume is an asset to them and their businesses.
How to Write a Freelancer Resume
Creating an impactful freelancer resume that adequately conveys your career history and experience may seem daunting, but it's absolutely possible.
We recommend you use these five key steps to get started:
1. Base your resume on the description of the job you aim to secure.
2. Find a freelancer resume template that works with your industry and the content you aim to add to it.
3. Include all of your portfolio information and contact details in your resume.
4. Use a brief summary to highlight your most pertinent skills and certifications.
5. Describe your skills and expertise in detail.
Let's dive into each of these points in more detail…
1. Model Your Resume After the Job Described
There are few things that catch the attention of prospective clients more than reading a resume that aligns with the task they are offering.
Many job listings specify their requirements of priority, which you can use to list relevant examples of exactly how you meet the client's most crucial criteria.
Say, for example, that you are a freelance photographer, graphic designer and content writer who's applying for a copywriting job. You can tailor your resume to feature your content writing experience more prominently to present yourself as a prime candidate for the task.
It's unnecessary to list every project or engagement you have ever taken part in on your resume. Rather, cherry-pick the past jobs that pertain most directly to the task at hand and show off the full extent of your knowledge in a specific niche.
2. Find and Use the Right Template
As we mentioned above, traditional resumes list experience and jobs in chronological order, but this format doesn't necessarily suit freelance resume writers.
As a freelancer, you might have had jobs that overlapped in the past, or carried out many small contracts over a certain period. Consider using a more functional format for your freelancer resume. Your template should organize your experience and skills by theme rather than by chronological order.
3. Include Your Portfolio and Contact Information
Ideally, list your contact information prominently at the top of your resume so that it's easy for prospective clients to find. Add your name, professional address, phone numbers, and email address.
You can add any professional networking platforms or websites that contain samples of your work as a freelancer as a link below your contact details. This will allow recruiters to check out your work style without having to send you an extra link request.
4. Highlight Your Most Relevant Skills in Your Summary
Your summary should be featured just below your contact details on your freelancer resume. A summary should showcase your work experience and your best skills without providing too many unnecessary details that will bore your readers.
It's a good idea to align your skills with the ones listed as criteria in the job's description if possible. Keep your summary short and sweet; between one and three sentences should suffice. You can use a summary if you have ample experience you want to mention without going into too much detail and extending the length of your resume.
5. Describe Your Freelance Skills in Detail
Traditional resumes rely on the use of standard lists of skills. If you have used a newer, less conventional resume format, then you might wish to consider using an alternative method of detailing your skills.
You can use an eye-catching infographic to rate your levels of expertise, or design your resume and skills section around specific themes. As an example, you could list each of your skills and then describe them by mentioning your past work experiences and how you used those skills to deliver quality results.
What to Include in Your Resume
These are the things that you should always include in your freelancer resume to impress your prospective clients and win more work in your field:
How to List Your Work Experience
One of the biggest mistakes that freelancers make when describing their work experience in their resumes is making long, tedious lists of their past clients and projects.
Whichever clients you are aiming to impress, very few of them will feel gripped by a resume that lacks context, depth and interest.
It's crucial to include a list of your most important, quantifiable achievements for each of your projects or tasks. If you leave these details out, you'll be relying mainly on your clients' brand names and positions to capture their attention.
While we're on brand names, it's important to list them, especially if they are widely recognized. You can really impress prospective clients by including the scope of projects completed for major multi-national or innovative brands you have worked with.
Your freelancer resume should include a balance of exciting, relevant and substantial content without taking up pages worth of space.
What to Omit from Your Resume
There are plenty of outdated additions that you can leave out of your freelancer resume, and any other resume as a matter of fact. These include:
An 'Objectives' section: This section would usually take up a few lines of space at the top of your freelancer resume. However, if you have already added a cover letter to your resume, the Objectives section is redundant and wastes valuable time potential clients could otherwise spend assessing your expertise, skills, and past work experience.
"References available on request": It's a great idea to have quality, contactable professional references ready to speak to your resume's recipients once you send it out, but you don't need to inform them of this.
Most prospective clients will assume that you are ready and willing to supply them with contact information for past satisfied clients and even previous employers, if applicable.
Unrelated soft skills and hobbies: Unless your passions for tennis, cooking, or video games are relevant to your application for a freelance project, it's probably better to leave them off your resume entirely.
Personal information beyond your name and contact details: Your potential clients don't need to know the names of your spouse and children, your home address, or the location of your holiday home!
Clichés, jargon, and inconsistent information: Clients prefer freelancer resumes that are brief, concise, informative, and to-the-point.
A variety of different fonts and design templates: Even the simplest of resumes can impress prospective clients if the information they offer is to their liking. There's no reason you can't create a visually appealing resume, but keep things simple and avoid using distracting, complex graphics, fonts and borders.
A freelancer resume submitted in Word document format: This can look unprofessional and unfinished. Rather, download your resume as a PDF file and send it to your prospective client in this immutable format.
If you have a website, you can add a downloadable link to your resume, or you can publish your resume on the site itself.
How to Write an Effective Cover Letter
A personalized cover letter should always accompany your freelancer resume submission. Your cover letter should focus on providing solutions to your prospective client's challenges and explaining exactly why they need you on board. Your goal in writing this letter should be to show your client why you're the best person to provide the solution to their challenge or task at hand.
This approach gives your cover letter much-needed structure and focus from the get-go. Highlight your skills that you can directly use to provide solutions to your client, and explain to them how you can save them time and money and provide excellent results in the process.
Your resume will tell them everything else they need to know about your professional capabilities.
3 Top Freelancer Resume Examples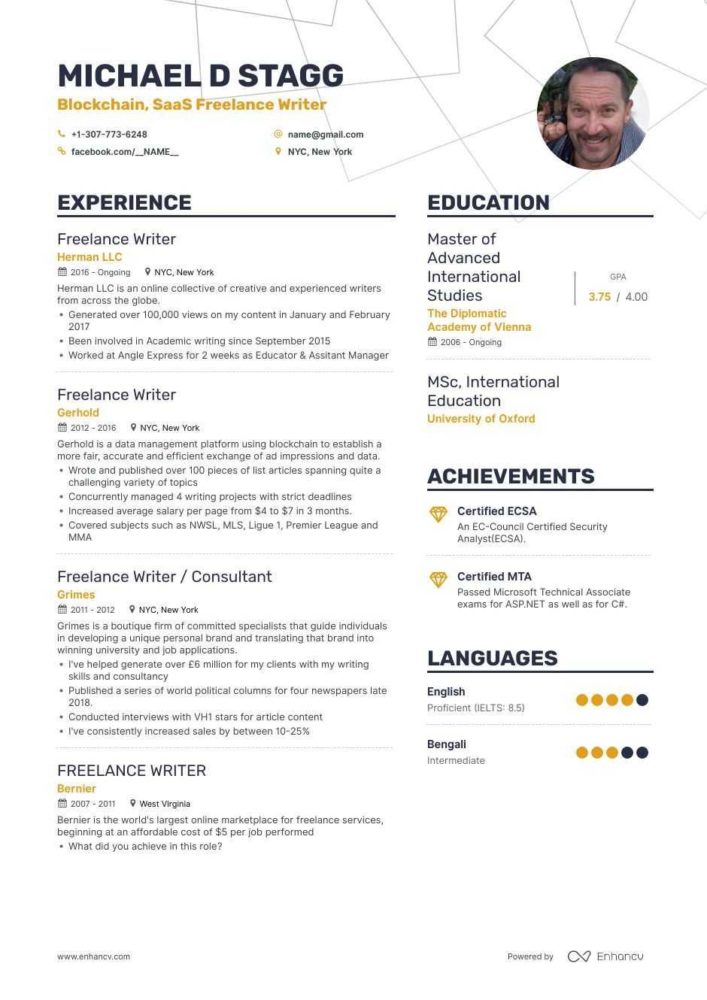 #1: Freelance Writer Resume Example
The fictional Michael D Stagg's freelancer resume is neat, easy to read, and aesthetically pleasing as well. This example prominently displays the freelancer's contact details at the top of the page, followed by sections on experience, education, achievements and spoken languages.
Prospective clients will immediately know that this candidate holds a master's degree and multiple certifications, and has the experience needed to back up his title of Blockchain and SaaS freelance writer.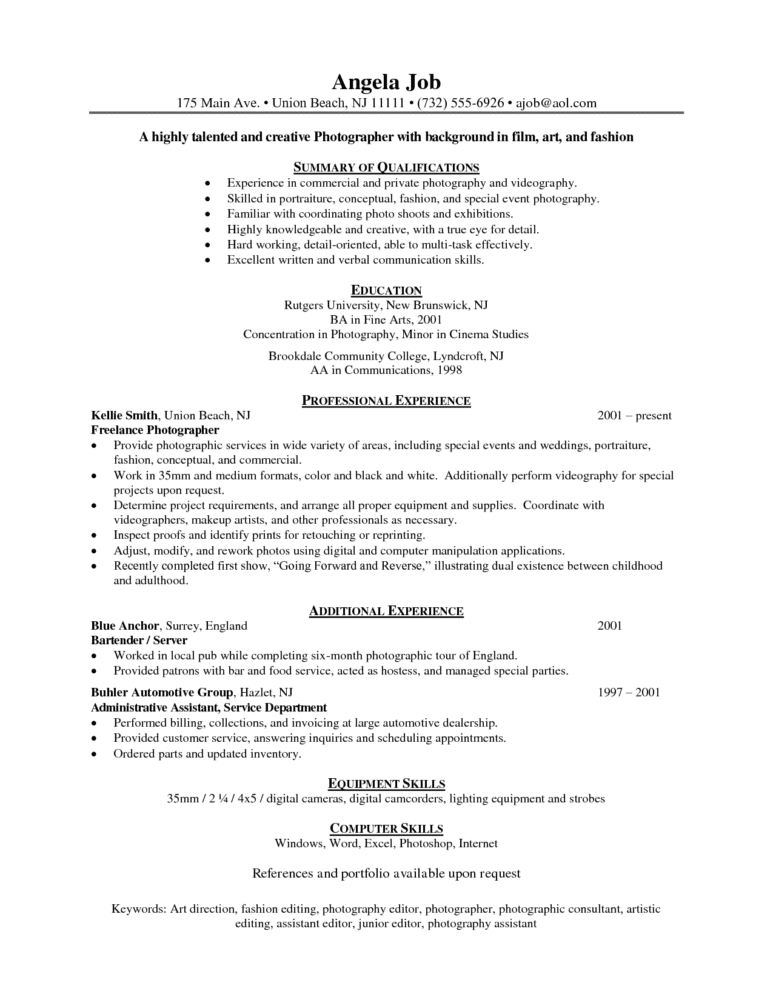 #2: Freelance Photographer Resume Example
This resume example offers a simple but powerful summary, establishing its writer as a creative and talented photographer with backgrounds in fashion, film and art. It summarizes the fictional Angela Job's qualifications, education and work experience, and even provides short lists of her computer skills and equipment skills.
Furthermore, the resume includes a variety of relevant keywords to ensure that it has the best chances of getting noticed by prospective employers.
#3: Freelance Web Developer Resume Example
This simple yet colorful freelancer resume establishes Steve Dominguez as a self-employed freelance video producer, digital marketer, web developer and social media strategist. It starts by offering his contact information, and then lists his prior work experience in the fields mentioned above.
This resume makes it clear that Dominguez is skilled in using a variety of Adobe CC programs, and that he offers valuable soft skills like communication and problem-solving abilities as well. It also lists his certifications and education, including his position as a certified Hootsuite media professional.
A Resume Equals A Recipe for Success
Your freelancer resume can make or break your ability to successfully attract reliable, well-paying clients and freelance jobs in your industry.
You may already have the skills needed to perform a job well, but without a quality, professional resume to evidence these skills, prospective employers simply won't know what you have to offer their businesses.
There are a few important tricks you should know to ensure that your resume makes the grade and can compete against other candidates in your field. If possible, you should tailor your freelancer resume to the job advertised, and list only the best and most recent examples of your work in your attached portfolio.
Describe your freelance hard and soft skills in detail, and highlight your most relevant skills for a job in a short but concise summary at the top of your resume.
Remember to add your contact information in a prominent location, so you're easy to reach out to—which is why you've created your resume in the first place!
Keep the conversation going...
Over 10,000 of us are having daily conversations over in our free Facebook group and we'd love to see you there. Join us!