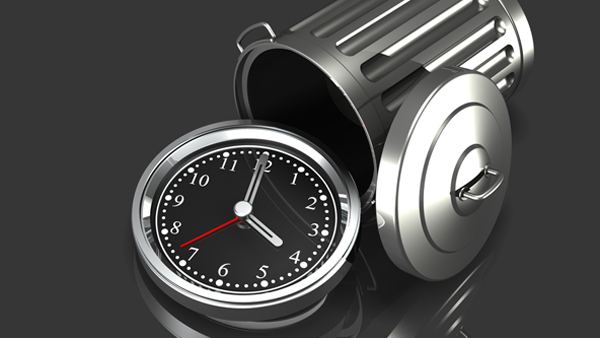 If there's anything you probably don't have enough of as a designer, it's time. There's always something to tweak, something to create from scratch, clients to call, tutorials to learn, blogs to read or personal projects to explore.
But there are always time-wasters that all designers fall prey to. Have you ever gotten sucked into one of these?
Reading design blogs
I know what you're thinking. "Are you crazy? You're telling us not to read your blog?"
You'll also enjoy this episode of our new podcast...

Well, not exactly.
I'm simply suggesting that reading blogs online can be a time-waster. For every hour you spend reading or "getting inspired" ask yourself if it's a good investment of time. Will reading this blog post offer a good return on my time investment?
As long as the answer remains "yes", keep on reading.
Communicating with people online
Often misconstrued as "networking", spending large blocks of your time communicating with others online is a dangerous practice and can be a huge time-waster.
💵 Turn complete strangers into paying clients using our new easy-to-follow workbook course, Cold Emails that Convert. Disover the framework we use to book thousands in new clients each month. Save 30% in April only with promo code MILLO30. Click here to learn more.
As with reading design blogs, always ask yourself if chatting with people is a good investment of your time. If it will help you build your network, online presence, or design business, then it's definitely a good idea.
If you find little advantage after hours of talking with people, responding to comments, or tweeting back and forth, you may have fallen prey to a common time-waster.
Playing games
Yes, you have to take a break for a few minutes every once and a while. But you don't necessarily need to take up your entire work day just to beat as many levels of Angry Birds as you can.
Playing games can quickly turn from a fun thing to do into a huge time-waster that should definitely be avoided. And since designers are on their computer during a good portion of the day, it's easy to get sucked in.
Don't do it!
Blogging
I know what you're going to say: What are you talking about!? You are always telling us to start a design blog or how to use a blog as a tool to promote our design business. Now you're telling us blogging is a waste of time?
Yeah. Kinda.
If you're blogging in order to become super popular, I personally think it could be a waste of time. If you're blogging to drive traffic to your site, build your brand, or find potential customers, I would definitely say it's worth your time.
Blogging to a non-existent (furthermore non-paying) audience can be a huge time-waster. Avoid it at all costs.
Fighting with clients
Just stop arguing with your clients about silly things. For that matter, stop wasting your time complaining about how dumb your clients are.
They are paying customers and deserve a little credit.
Misery loves company. And it can be easy to fall into the rut of making fun of your clients, arguing with them, writing snarky email responses, and the like.
Just don't do it.
What's your favorite time-waster?
That's right. What time-waster do you just have the hardest time giving up? Where does all your time get sucked away? Think of all the things you could do with that time. Share your thoughts on all this by leaving a comment.