Table of Contents
This post may contain affiliate links. See our affiliate disclosure for more.
Aside from time flexibility, one of the undeniable charms of freelancing is the freedom to set your rates, which, in turn, gives you unlimited earning capacity. Setting a competitive Upwork hourly rate is one of the first steps you'll take as a freelancer, particularly because you're bidding against thousands of other freelance workers in your niche.
Upwork is a well-known marketplace for freelancers offering writing, graphic design, and web development services. Many freelancers join Upwork since it is a legitimate source of income.
It's relatively simple to become a freelancer – just set up an account, choose a plan, and post an ad for your services. Once you are all set, you can get jobs from clients and earn money.
There are many ways you can set up your pricing structure. However, hourly pricing is the most common pricing strategy on Upwork. There are numerous factors to consider when you set your rate. This article will outline what you need to know about the Upwork hourly rate and how you can set a reasonable rate for your services.
Once you determine your hourly rate, you can also use our Upwork Fee Calculator to estimate how much you'll get from a client after Upwork takes their fees.
How to determine your Upwork hourly rate
If you use the hourly pricing method, your earnings for a specific project will depend on the number of hours you put into it. There are a few factors to consider in setting your rates, like your value proposition, target audience, and the overall demand for your services.
New freelancers often set their rates lower than average to attract more clients, build their profiles and eventually get more jobs. Luckily, Upwork lets you change your rates any time, so you can increase it as you gain more credibility.
5 Steps to set your Upwork hourly rate
Setting an attractive yet reasonable hourly rate is one of the most critical steps to becoming an Upwork freelancer. Deciding on a rate is more than just throwing out a random number– you need to do careful research and consider many different factors. Here are a few steps to set your Upwork hourly rate:
1. Determine the services you can offer
Upwork has a diverse range of freelancers who offer services. These services include writing, graphic design, web development, and many more. In setting up your Upwork hourly rate, you first need to determine the type of services you offer.
Ask yourself what skills you have, the demand for that kind of skill, and how you can stand out from the pool of freelancers already on Upwork. That is the first step in setting your Upwork hourly rate, as your roster of services will be your key to making a profit.
Your unique value proposition will drive clients to choose you over other freelancers, so it's important to hone and improve your skills continually.
2. Research about the market for your services
After identifying the services you want to offer, researching the market for these services is the next step. Familiarizing yourself with the market will allow you to compare your expected rate versus the average rate of other freelancers. That will help you create a more informed and realistic goal.
To do this, you will need to look at other freelancers' rates on Upwork. Freelance graphic designers, for example, have an average Upwork hourly rate of $15-$35. There are also many online articles and sites like Glassdoor at your disposal. Make sure your hourly rate is consistent with your competitors.

Aside from comparing rates, you should also consider the demand for the kind of services you offer. If you're offering services in a highly competitive niche, you may want to stay with a more affordable price range. On the other hand, you can charge higher for more specialized fields with very little competition.
3. Consider your freelance expenses
Business expenses are inevitable, even for freelancers. You need to account for those expenses in your hourly rate. The standard costs you need to consider are the equipment and software you use, the taxes you pay, any insurance you might need in your job, licenses or subscriptions, and marketing costs.
Some Upwork hourly rates are more expensive than the regular salary rate of full-time employees, but clients would still happily pay them for their services because doing it in-house would mean incurring extra costs. On the other hand, a freelancer is responsible for the expenses associated with a project.
Moreover, availing of freelance services means that a client no longer has to spend on taxes and benefits – these costs fall directly on the freelancer.
4. Set a target annual salary and consider the hours needed to achieve it
Some people do freelancing part-time, but it can be as good as a full-time job when done right. If you plan to earn full-time at Upwork, you need to consider how much you need to cover your living expenses and save. By doing this, you can then work out an excellent hourly rate.
Set a target annual salary and calculate how many working hours you need to achieve it. Note that the calculated rate should be your working time as billable hours. Many business-related activities like invoicing, replying to emails, prospecting, and marketing aren't necessarily things you can charge for.
5. Add value to your expertise.
Advertising affordable services can be a strategic method to get more clients. However, you may be selling yourself short by charging too low. Aside from all the other factors mentioned above, your Upwork hourly rate should be anchored based on the value you put on the table. A reasonable price should consider the level of knowledge and skills you offer to clients.
The more experienced and knowledgeable you are in a field, the more you can charge for your time. A freelancer with years of experience in writing, for example, can charge more than one who is just starting. Invest in honing your skills and accumulating experience.
Aside from experience, you should also consider the rarity and complexity of your skill. If you are proficient in various software coding languages or writing styles, you can charge more than the average rate.
In this example by Nick P., he exhibits his website development skills by emphasizing his expertise in various e-commerce software and content management systems (CMS). He also flaunts some good reviews to add more value to his profile. That is what you call social proof.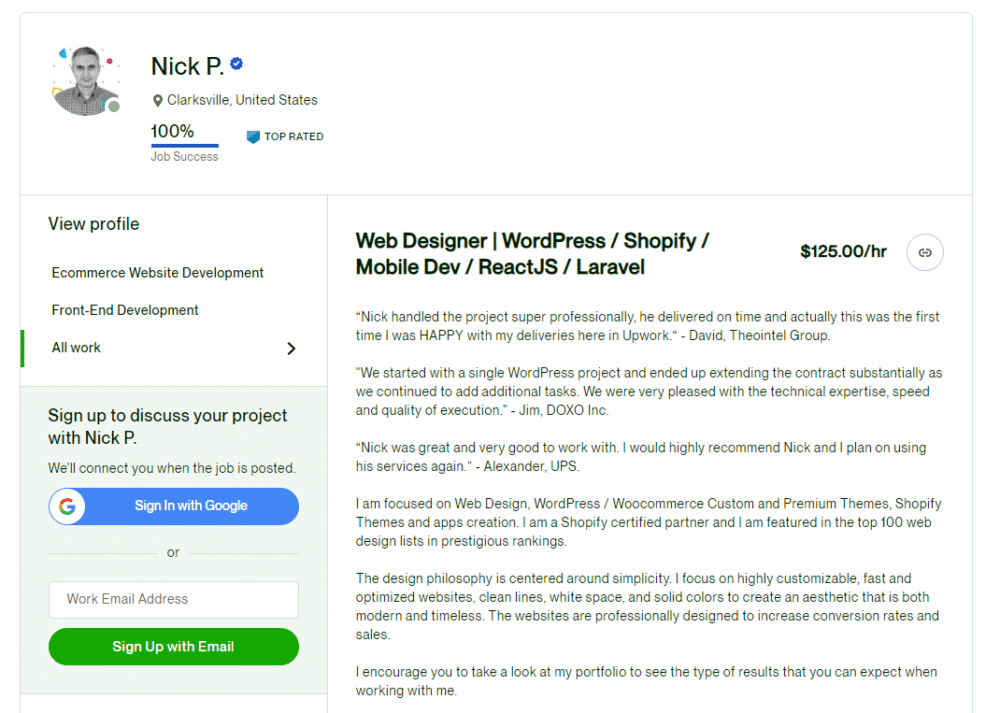 That said, you should be able to justify the higher price point and provide quality work to your clients. Reflect on your experiences, skill level, and portfolio to finalize a reasonable Upwork hourly rate.
How to add your hourly rate to your Upwork account
Once you have decided on an amount, it is finally time to put your Upwork hourly rate to the test. Showcasing your rate to your account can attract clients and help you make adjustments going forward. Below are a few tips for adding your hourly rate to your Upwork account:
Set up an impressive profile
Your Upwork profile is like your online resume to capture potential clients. If it's not impressive enough, chances are, they won't choose to work with you. Take this example from UX Designer Petro S. He uses short paragraphs and customized bullet points to highlight his skills and make it easier for readers to gauge his level of expertise.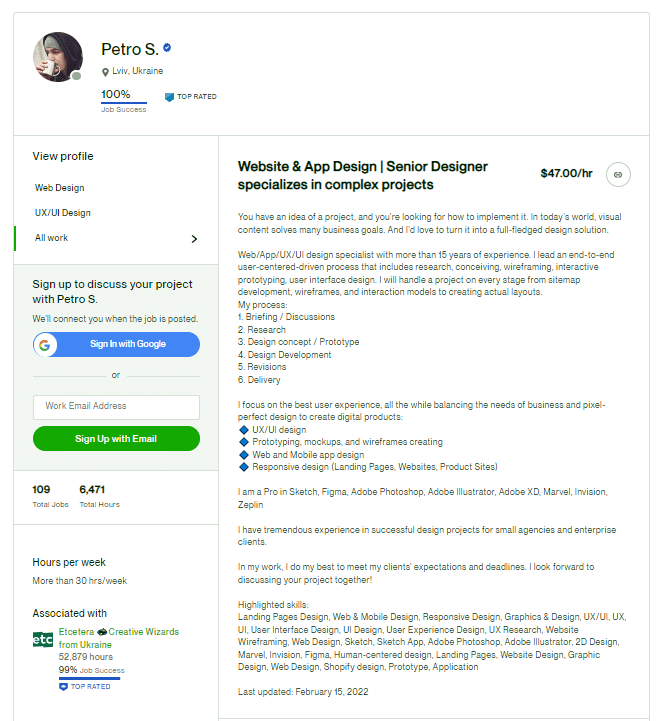 When you set up an Upwork profile, you need to create an account and fill out the job types you would like to work on. In the example above, you will need to specify which areas you are most proficient in and your level of expertise in each area. Bear in mind that failing to deliver on jobs can lead to your account closing or being put on hold, so be honest in identifying your skills.
Don't forget to include a headshot and a detailed description of your skills and background. You can cite past work samples or add a link to your portfolio. You can also showcase your educational background, how many hours you can work, and your preferred work schedule.
Once you're happy with your profile, Upwork will approve your profile within 24 hours.
Choose a membership plan that suits you
Once you have set up an attractive profile, you must choose a membership plan. Upwork has four membership plans in total. Two of these plans, Basic and Plus, are for freelancers.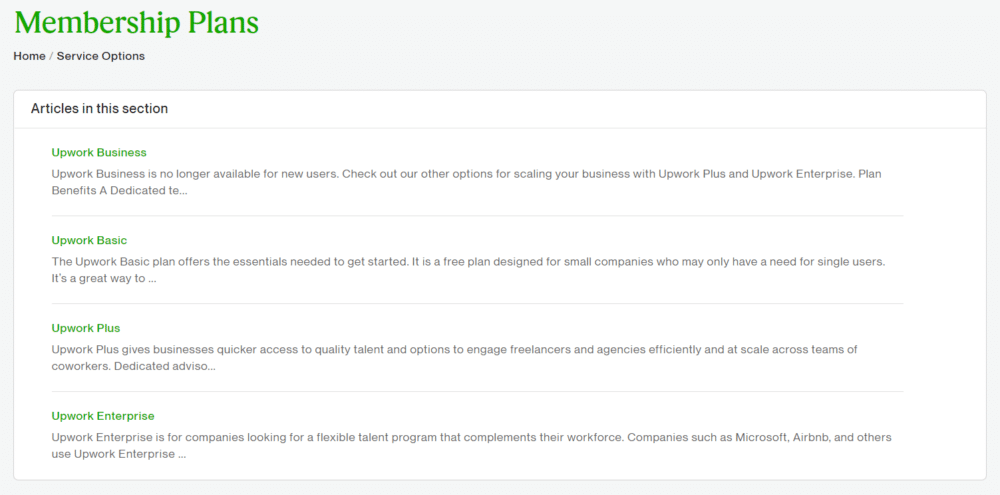 The basic plan is free but does require payment to connect with prospective clients. That will cost $0.15 per connection (up to 140 connections per month). That will allow you to submit proposals to clients. The plan also has a payment projection feature for hourly and project-based payments.
Meanwhile, Upwork's Plus plan costs $14.99 per month. It includes everything on the Basic plan and other perks like 70 connects per month and custom profile URL. It also allows you to see what your competitors are bidding for a job and the option to keep your earnings confidential. More importantly, inactive profiles under the Plus plan will not be hidden even if it is inactive for some time.
Display your hourly rate on your profile
You no longer need to use a 'connect' when a client approaches you for a job first. It is vital to have a competitive profile that will make potential clients initiate the contact themselves.
Aside from showcasing your background and skills, display your hourly rate on your profile to set expectations from the get-go. Showing your hourly rate will help clients with a specific budget filter out other competitors who don't fit. It will also save you and the clients from wasting time.
Go to 'profile' and click on 'hourly rate' on your dashboard. A pencil button will appear to enable you to input your rate. Click Save, and you are good to go.
Connect with prospects
Connecting with clients is the foundation of a long and profitable career in Upwork. Use your connections to send proposals to potential clients. Although connecting to several clients is the goal, you must not be too hasty in sending proposals. Research the employer first in sites like The Better Business Bureau, Glassdoor, or even Google.
Be sure to include an introductory letter, how much you're going to charge, and examples of your best work. Some clients receive multiple proposals in a day, so it's essential to keep things concise and striking.
Once you have finished a job, Upwork lets you and the client rate each other using a five-star scale. These clients' ratings are visible on their pages, and they affect your Job Success score. This score is displayed on your profile, so you must consistently complete and submit your deliverables with the highest possible quality. For instance, if you're submitting an article, I suggest you conduct plagiarism checks prior to submission.
Work and get paid
This is the most vital part of becoming a freelancer. Keep working on new projects and enhancing your profile to increase profit and get more customers. Compared to other freelance sites like Freelancer, it's pretty easy to navigate Upwork and find the right jobs.
All projects on Upwork are billed weekly. Upwork supports payments made via PayPal, direct deposit, or wire transfer. After the billing period ends, the client can review your work.
Upwork hourly rate vs. fixed rate
There are many differences between an Upwork hourly rate and a fixed rate. For one thing, a fixed rate is more straightforward. In this case, the freelancer and the client agree on a total amount to finish a specific project. The freelancer will get paid by hitting specific deliverables set by the client, and the remaining is paid once the job is completed.
On the other hand, an hourly project depends on how many hours a freelancer takes to finish a project. Upwork's desktop app has a work diary where freelancers can log their hours. The diary uses a 10-minute billing cycle and records keystrokes, clicks, active windows, and scrolling.
You can turn off the Upwork work diary anytime. You can log your work manually, but you may not be secured with Upwork's hourly protection feature. This feature helps freelancers prove the hours they completed should the client refuse to pay them.
Tips for getting paid what you deserve
With the many freelancers and services on Upwork, it can be hard to set a competitive price and one that is appropriate for your level of skill. Here are a few tips to get paid what you deserve:
Build your portfolio
Experience is one of the most marketable assets for a freelancer. You can justify a higher price point than those just starting if you have that. Remember to showcase your experience by building a solid portfolio.
Collect good reviews
Make sure you always leave a good impact on your clients to get good reviews. Clients are willing to pay a certain amount if they are given proof of the quality of your services. Always ask for feedback, not only to get good reviews but to pinpoint areas of improvement.
Ongoing skills development
Keep improving your skills by investing time and even resources into honing them. You can do this by taking courses or learning new technology related to your craft. This way, you have a lot of weapons in your Upwork arsenal.
Do your research about the client
Freelancers on Upwork have the power to review their clients, which can help other freelancers decide whether or not to take a job. Generating lots of interest can be good and all, but if you happen to work for a difficult client, it may not be worth your time. Make sure you only accept legitimate jobs and have employers you can communicate with.
Set your rate with confidence
Upwork is a popular site for freelancers. On the platform, you can set hourly or fixed rates. Since hourly rates are more straightforward to track, more and more freelancers are inclined to use it more than a fixed rate.
In establishing your hourly rate, you first need to determine the services you want to offer, research the market for those services, and create a target salary per year. From there, you will have a clear picture of a reasonable hourly rate but don't forget to factor in your freelance expenses as you will shoulder these yourself.
More importantly, be careful not to sell yourself short by setting a low Upwork hourly rate. If you believe there is value in your services and you can deliver quality work, don't be afraid to ask for what you deserve.
Create an impressive portfolio through your experiences, collect good reviews, and continually develop your skills but always be mindful of the clients you approach.
Keep the conversation going...
Over 10,000 of us are having daily conversations over in our free Facebook group and we'd love to see you there. Join us!