Table of Contents
This post may contain affiliate links. See our affiliate disclosure for more.
Freelance writing jobs for beginners are easier to find right now than ever before. It used to be that if you were looking for entry-level freelance writing jobs you had to hunt through thousands of classified ads, write cold-pitch letters to magazine and newspaper editors, and probably even do some free work to prove your value.
Not anymore.
If you're a beginning freelance writer looking for potential clients to make money writing, or trying to elevate your freelance writing career, there have never been more opportunities or great places to find freelance writing jobs online than there are now.
Work from home, part-time, or full-time, we're positive that this list of job boards will help you find more writing jobs in no time.
Key Takeaways:
As a beginner freelance writer, it's important to start building your portfolio by taking on smaller, lower-paying jobs and gradually working your way up to higher-paying, more prestigious gigs.
There are many different types of freelance writing jobs available, including blog writing, copywriting, content writing, technical writing, and grant writing. Freelancers can find jobs through job boards, content mills, social media, and their own personal networks.
To be successful as a freelance writer, it's important to develop strong writing skills, stay organized and efficient, and focus on delivering high-quality work that meets the needs of clients.
Here are the best sites that post freelance writing jobs for beginners every day.
1. SolidGigs
First on the list of sites that post freelance writing jobs for beginners is SolidGigs. Whether you're into blogging, copywriting, or social media, you'll find great writing jobs with SolidGigs.
By hand, they sort through dozens of freelance jobs sites every week and then post the best 1-2% of freelance job opportunities for their subscribers.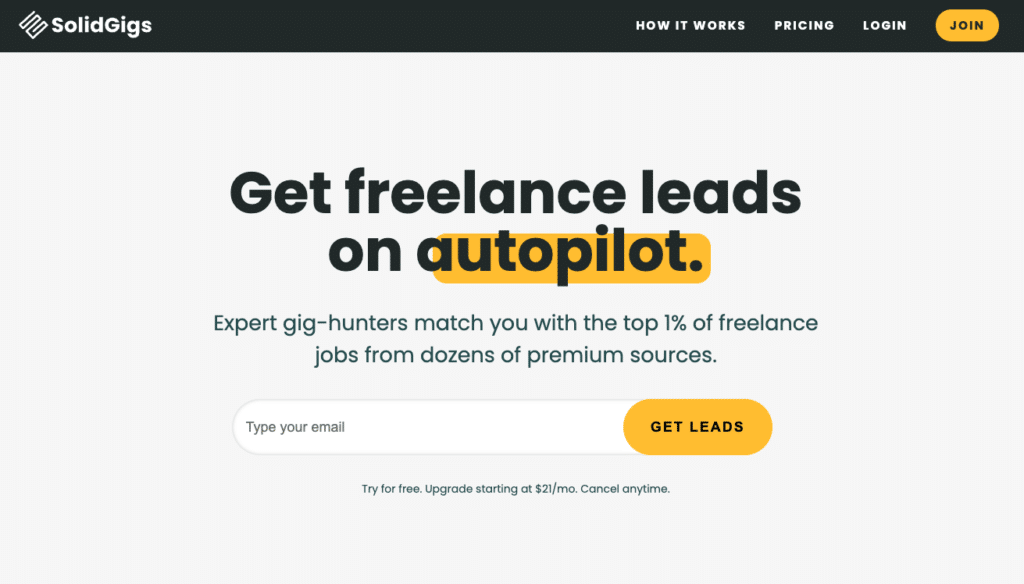 You only pay a small monthly fee for access to their list and they don't charge a percentage of your client paycheck (super helpful when you're just a beginning freelance writer). If you've been at it for a while, you know that the time it takes to job search is incredibly tedious, so consider your time involved for what you'll save.
You can try SolidGigs free for 7 days. Or learn more in our full review of SolidGigs.
2. Contena
If you're looking for a site with freelance writing jobs for beginners plus jobs you can use later on in your freelancing career, then Contena is another job board you should look more into.
Contena not only posts great beginner job postings for freelance writers to make money, but also posts some major, high-quality job opportunities too. At the time of posting, the most recent job listing was a $7,000/mo freelance writing job. Incredible! Think about the kind of money you can be making while you work from home.
3. Problogger Job Board
Next on the list is a personal favorite of mine. Why? Because some of my earliest freelance writing jobs I found through this job board.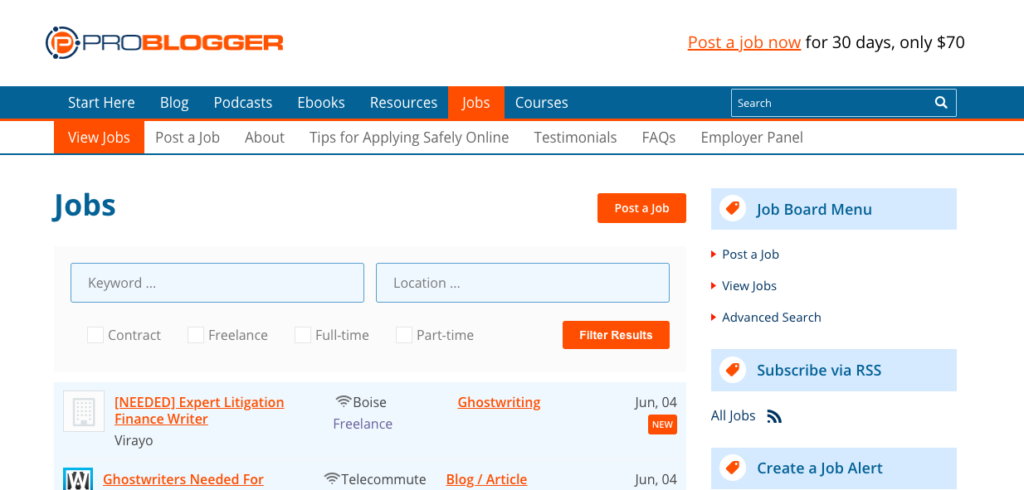 It doesn't just feature freelance writing jobs for beginners, so you'll have to sort through all the listings, but the Problogger Job Board is one of the best—especially if you're interested in writing for online publications and blogs.
4. ClearVoice
ClearVoice allows freelancers to sign up on their platform and help them seize opportunities as soon they arise. Their onboarding process is super simple; using your CV, you can join their Talent pool where new leads will automatically be matched to your expertise.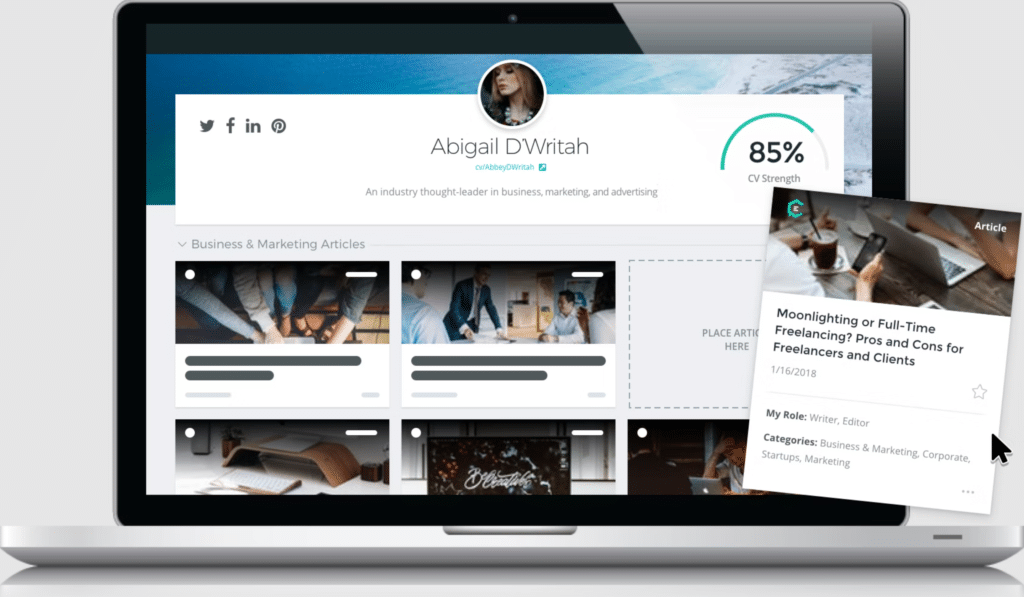 ClearVoice also allows you to directly pitch to clients available on their platform. Payments are hassle free as well. You can set your own rate and get paid at your own terms.
Sign up for ClearVoice here.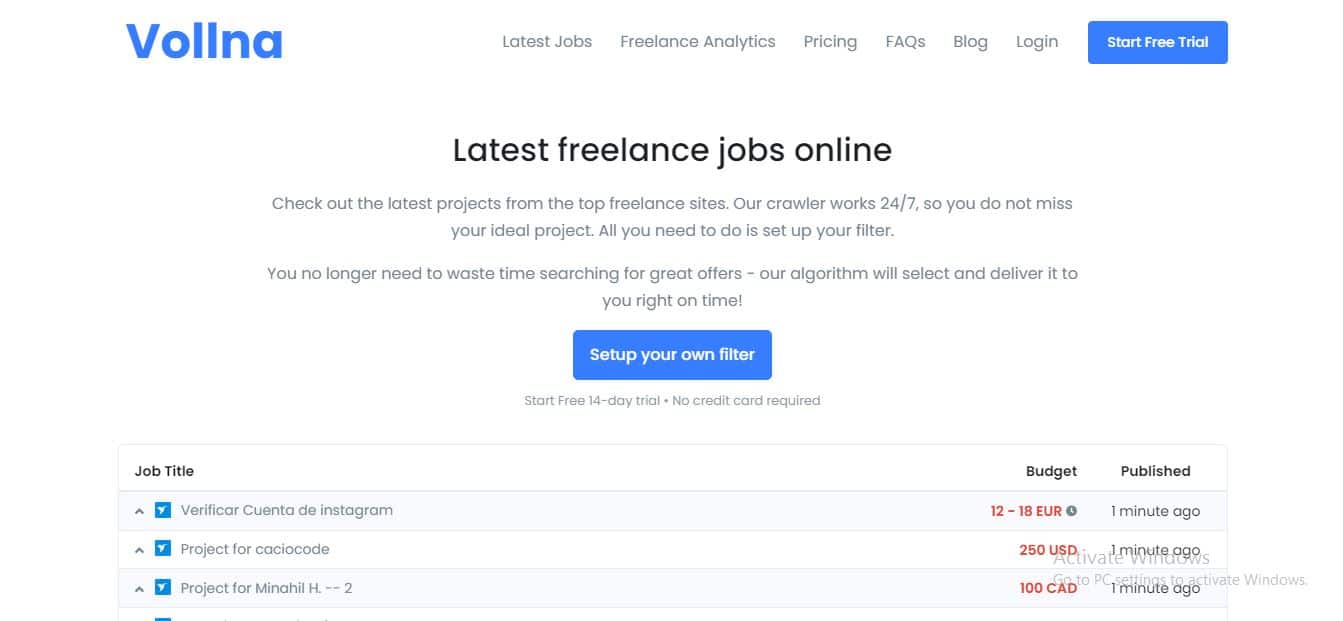 Vollna is a freelance job site that's built to be unique. By setting up a job filter specified to your needs, Vollna's job listings sort through all the top freelance job boards and compile them into one. Created by a fellow freelancer, you get all the latest freelancing jobs posted on freelance platforms such as Upwork, Freelancer, and People Per Hour straight to your inbox or your mobile phone.
6. FlexJobs
Next on the list is a goldmine of freelance writing jobs for beginners and experts alike. FlexJobs posts hundreds of new freelance jobs every week of varying difficulty and quality.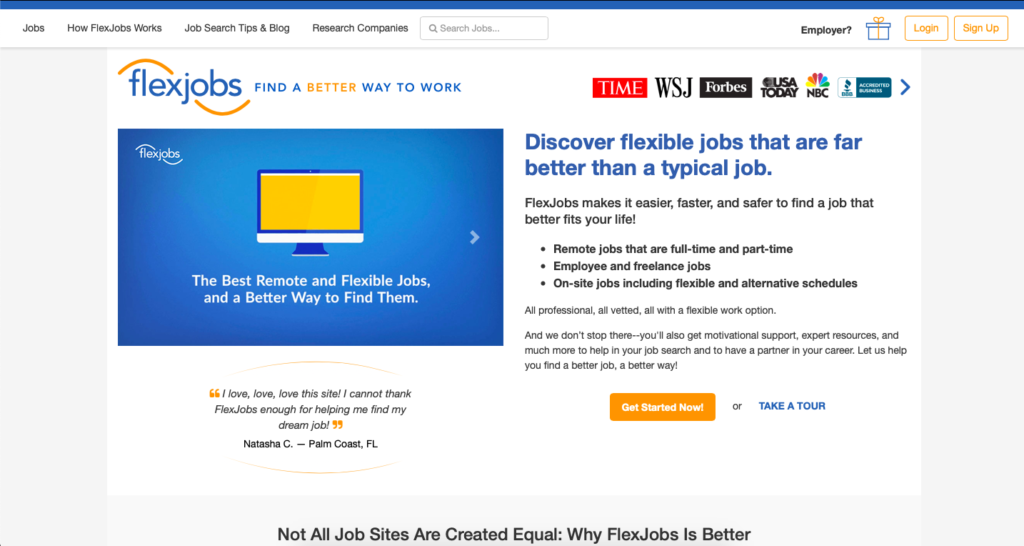 If you set up the right filters, you'll instantly have access to a whole bunch of beginner-level freelance writing gigs — content writing, SEO, social media, copywriting, and more. Learn more about FlexJobs' free trial here.
7. Freedom with Writing
The next site we know about that offers freelance writing jobs for beginners is a bit…how do we say it… outdated-looking.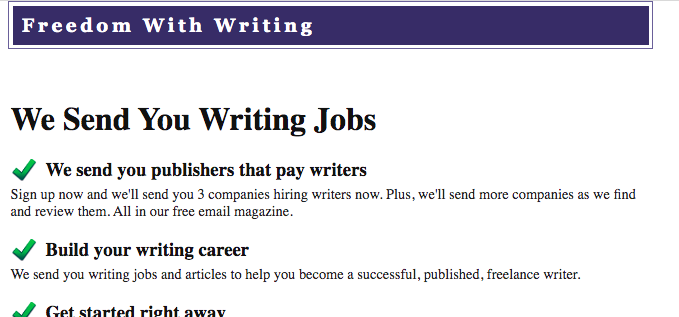 But don't let the old-school design throw you off: FWW posts some really great freelance writing jobs for beginners and experts alike.
While the next one on our list may not actually be a "website" that offers daily freelance writing jobs for beginners, it's still definitely worth mentioning.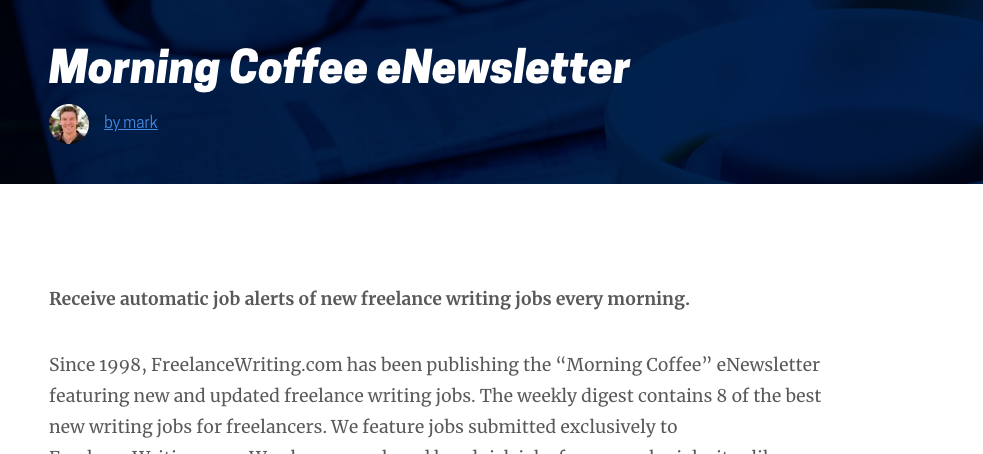 The Morning Coffee Newsletter is among the best sent-to-you email lists of freelance writing jobs that we're aware of. They've been sending the newsletter since 1998, so it's safe to say they know a thing or two about freelance writers.
Plus, this can diversify your source of job listings, so it's not just a traditional job board.
9. Freelance Writing Jobs
This next site definitely doesn't win any awards for creativity when it comes to their name, but it's straightforward. With Freelance Writing Jobs you know exactly what you're getting.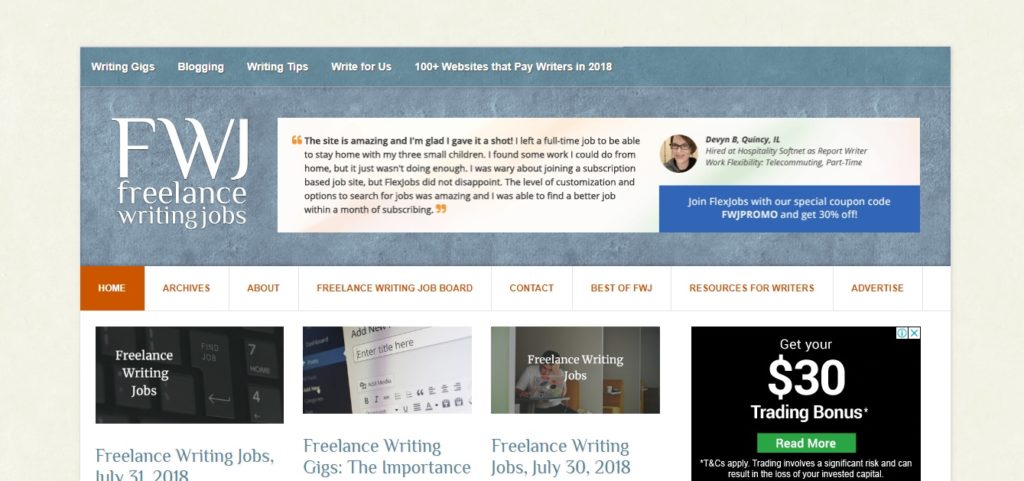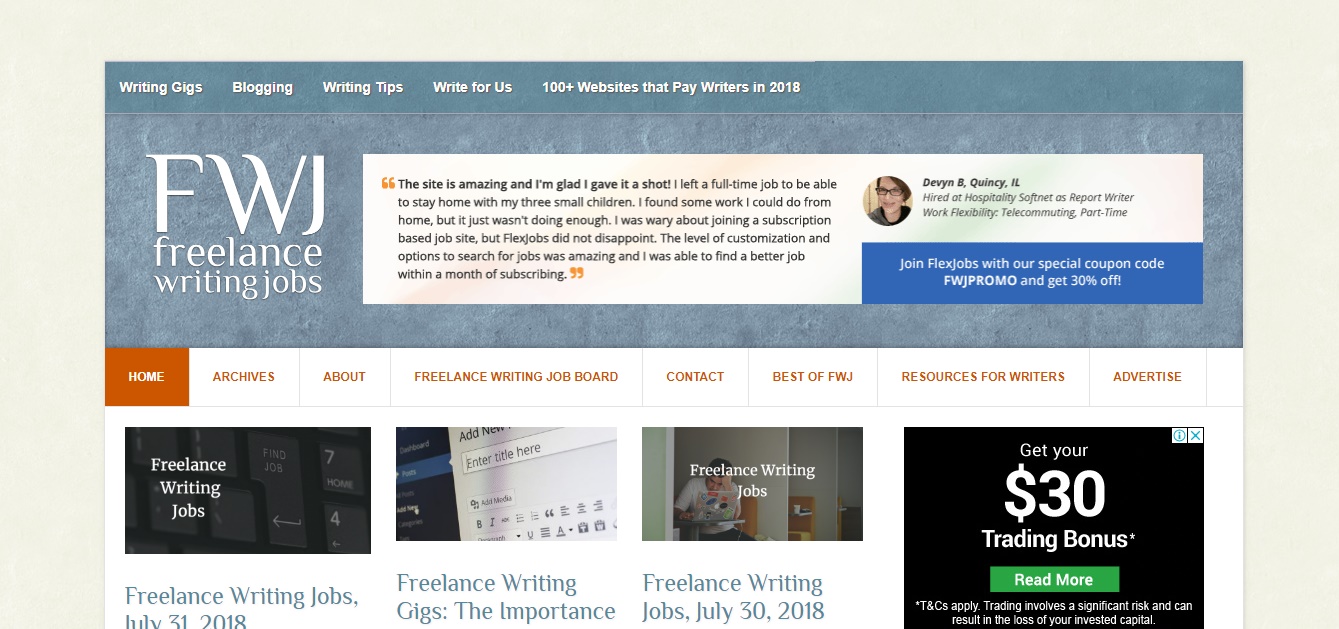 FWJ posts a new job postings list nearly every day with freelance writing jobs for beginners, content writers, and more. Definitely worth checking out.
10. We Work Remotely
If you're particularly interested in freelance writing jobs for beginners because you want to build a career that doesn't tether you to one particular location, then We Work Remotely is a good option for you!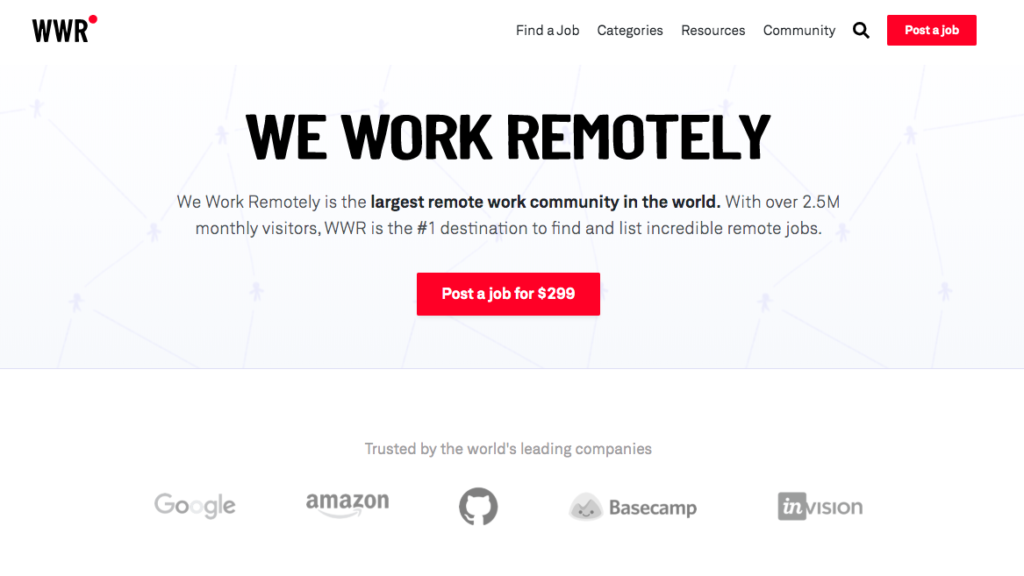 They've got a robust section of freelance copywriting jobs as well as freelance jobs in all sorts of other categories.
11. Working Nomads
Whether you just want to work in your pajamas from your couch or have an itch to travel the world while you work as a freelance writer, Working Nomads is a great option to add to your list of sites posting freelance writing jobs.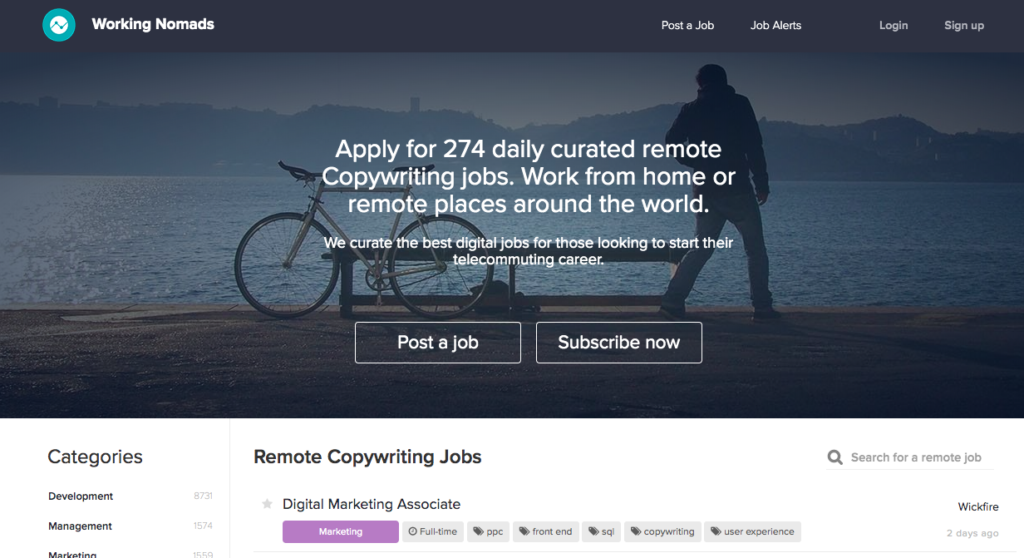 Their "writing" section primarily features freelance writing jobs for beginners or experts in marketing and copywriting.
12. Journalism Jobs
If you're focused on trying to break into reporting and investigative writing, you may be able to use Journalism Jobs to find some freelance writing jobs for beginners in journalism.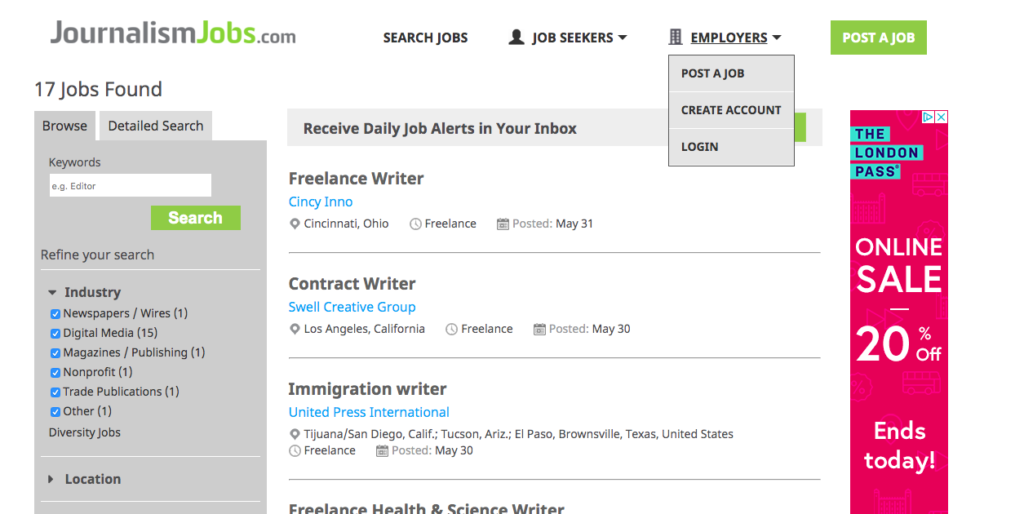 Their site offers a unique angle in a specific niche within freelance writing—one that can offer excitement and fun to your daily writing work. How can you deny a boost in your freelancing life?
Of course, no list sharing sites that post daily freelance writing jobs for beginners would be complete without mentioning one of the largest (maybe the largest?) freelance marketplace in the world: Upwork.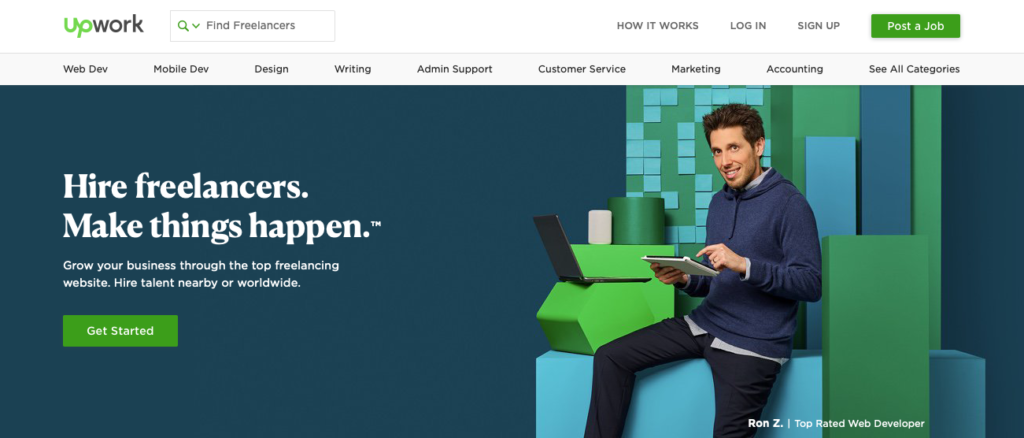 Upwork brings freelancers and clients together regardless of their skill level or particular needs and every day new clients are posting freelance writing jobs you can bid on and apply for.
I happen to personally know lots of freelancers who started their freelance careers by finding beginner jobs on sites like Upwork. Maybe that's a good path for you too? There's a ton of potential clients just waiting for you!
Tips for finding more writing jobs
We know the above list of job sites can be overwhelming — but this is why we put this list together to help narrow down your options.
If you're still looking at this list without knowing where to start, here's some tips to help.
Know what kind of job board you're dealing with
There's a big difference between SolidGigs, FlexJobs, and Upwork. We think it's a solid idea to diversify your search, however you should know how each job board works.
SolidGigs, for example, is a service that sends jobs to you, so you don't have to do the searching. They compile the list of all the top sites already.
FlexJobs is a job board that you have to sign up for, and apply to job listings on their site. These are jobs vetted by FlexJobs, and used by companies looking to hire.
Upwork is a freelance marketplace, where thousands of other fellow freelancers join and make a profile, then attempt to land jobs with sending proposals.
So, what kind of job board do you want to try? Or would you rather use one that does it for you?
Be consistent
The key to finding more freelance work is truly to be consistent — you have to put in the work and time to find and apply to job writing opporunities.
As the famous quote from Wayne Gretzky goes, "You miss 100% of the shots you don't take."
So apply, apply, apply — the more you apply, the more practice you get at improving on your cover letters and the more opportunity you have to getting more writing jobs.
Remain professional, yet personable
When you're reaching out, regardless of what job site you're searching on, you should aim to sprinkle some of your personality into your pitches.
If you're plain, and boring, more than likely they'll just pass on to the next.
But if you give some personality, but remain professional, you show the employer a small snippet into who you are.
Just keep writing
Even if you're out of work, and on the hunt, you should still be writing.
Create a fictional client for yourself, and write articles as if it was a real paid job opportunity. In the end, you will have gained experience and a potential portfolio piece.
You've got to be constantly improving your writing skills one way or another, so never stop writing.
Learn more about how to become a freelance writer.
Good luck on your writing job search
Look, we get it — job hunting sucks! But with this list of the best writing job sites, and even an affordable service that will do the work for you, we have no doubt you'll be able to get work sooner than later.
That's all we've got for you today, but we'll be sure to keep an eye out and add any new sites offering regular freelance writing jobs for beginners. If we've missed anything, please be sure to let us know!
Keep the conversation going...
Over 10,000 of us are having daily conversations over in our free Facebook group and we'd love to see you there. Join us!